PhD Title: PhD in Public Health
Supervisor(s): Dr Nik Anni Afiqah Hj Mohd Tuah, Dr Suwarni Diah and Dr Hajah Norhayati Haji Kassim
About the PhD:
I worked on the development of a mobile application called 'Health Coach', with content focus on dietary and physical activity information. The development and designed of Health Coach were informed by behavioural change theories, academics, health professionals and intended users. In my thesis, I determine the effectiveness of Health Coach in changing dietary and physical activity behaviour as a strategy for obesity prevention in overweight and obese adolescents in secondary schools in Brunei. Research in mobile health (m-Health) is a relatively new field and evidences are subsequently emerging. This research is the first-evidence based apps study within the Brunei context in targeting overweight and obese adolescents for obesity prevention in Brunei.
Key words: 
human nutrition and metabolism, dietary and nutrition analysis, nutrition policy, development of mobile application, m-Health, e-Health, public health, adolescents
Prizes & Awards
December 2014 - SAKURA Science Scholarship 
Conferences & Meetings
June 2014 - 10th International Nursing and Midwifery Conference "Advancing Education and Practice to Global Health Challenges"
September 2013 - International Health Conference "Strengthening Primary Health Care"
June 2013 - Regional Young Scientist Scientific Forum "Harnessing Science and Technology for Better Health"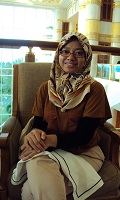 Email: 12h8801@ubd.edu.bn 
Qualifications
MSc (Med Sci) in Human Nutrition with specialization in obesity and weight management, University of Glasgow, UK
PgDip in Human Nutrition and Metabolism, University of Aberdeen, UK
BSc (Hons) in Nutrition, University of Surrey, UK
Biography
I have always been interested in food and nutrition, hence, my undergraduate and postgraduate training have been focused on how food and nutrition make huge implications to human health. After my MSc, I spent months of internship in the Health Promotion Centre of the Ministry of Health, Brunei, and this experience opened up my interest in the importance of population health, particularly in obesity prevention. Working with the health professionals at the Centre, I have learnt how complex it is, in real-life settings, to reach, disseminate, and educate health to the public. My research interest is in developing innovative ways to intervene and prevent overweightness and obesity through the dimensions of diet and physical activity.
Publications
Conference Papers
"Using communication technology with self-efficacy theory changes the behavioural and anthropometric measures in adolescents: a Systematic Review" in 10th International Nursing and Midwifery Conferences (June 2014) Theme: Advancing Education and Practice to Global Health Challenges
"Communication technology using self-efficacy theory as intervention for dietary and physical activity behaviour change in overweight and obese adolescents: Intervention study protocol" in International Health Conferences (September 2013) Theme: Strengthening Primary Health Care
"Communication technology using self-efficacy theory for diet ad physical activity interventions to reduce weight among overweight and obese adolescents: a Review Protocol" in Regional Young Scientist Scientific Forum (June 2013) Theme: Harnessing Science and Technology for Better Health