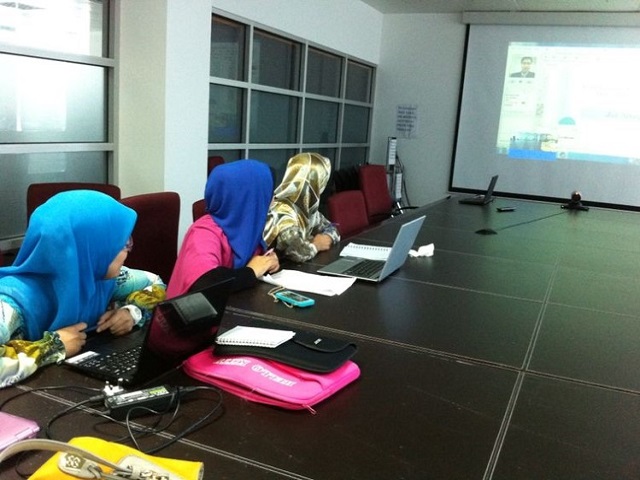 IHS Students in Global Classroom Session
UBD started the Global Classroom project in 2012. The global classroom began in UBD at our PAPRSB Institute of Health Sciences and offers a simultaneous video-conferencing links with 8 universities in Asia, including UBD, National University of Singapore, Seoul National University, National Taiwan University, University of Occupational and Environmental Health in Japan, United Nations University in Malaysia, Mahidol University in Thailand and Kagawa University in Japan.
Drawing experts from various fields in the partner universities, and with around 200 international participants, the program allows for real time participation, communications and round table discussions. Course materials are shared on an e-learning platform.
IEOH at Institute of Health Sciences
The annual global classroom on "International Perspectives of Environmental and Occupational Health Issues" (IEOH) runs from September to December under the Environmental Occupational Health Module in the Master of Public Health Programme, PAPRSB Institute of Health Sciences. 
The global classroom at Institute of Health Sciences is conducted by renowned academics, which included Professor T. Higashi (President of UOEH Japan, 2016), Professor Leon Guo (National Taiwan University, 2016) and Professor David Koh (Distinguished Professor, Universiti Brunei Darussalam, 2016). 
For further information about UBD Global Classroom, please contact the following academic coordinators:
Prof David Koh: david.koh@ubd.edu.bn
Dr Nik A A Tuah: anni.mohamad@ubd.edu.bn
Dr Khadizah Hj Abdul Mumim: khadizah.mumin@ubd.edu.bn