PhD Title: Contributing Factors to Childhood Obesity and Team-Based Tailored Health Education In Brunei Darussalam
Supervisor(s):  Assoc Prof Dr Mohd Ayub Sadiq @ Dr Lin Naing and Dr Nik Anni Afiqah Hj Mohd Tuah
About the PhD: 
Despite the numerous effort and availability of health programs in Brunei, childhood obesity is still prominent and continues to rise. My research project addresses the problem by designing a novel childhood obesity intervention in Brunei.
Prizes & Awards
Graduate Research Scholarship by Universiti Brunei Darussalam, Brunei
Conferences & Meetings
2017 - 10th Malaysia Indonesia Brunei (MIB) Medical Sciences Conference, Malaysia [Speaker on "Knowledge, Attitude and Practice Towards Obesity Among Bruneian Children That Influence The Development Of Childhood Obesity: A Cross-Sectional Study"]
2016 - 2nd Nursing and Midwifery Student Research Conference: Impact of Research Culture in Quality Care, Brunei [Speaker on "Factors Influencing Eating Habits and Physical Activity in Bruneian Parents and their Children"]
2015 - 9th Malaysia Indonesia Brunei Medical Sciences (MIB) Medical Sciences Conference, Brunei [Speakers on "The Knowledge and Practice of Food Safety of Adult Consumers In Brunei-Muara District In Brunei Darussalam"]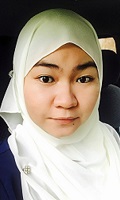 Email: 14h8401@ubd.edu.bn
Qualifications
Master of Public Health (By Coursework), Universiti Brunei Darussalam, Brunei
Biography
Zaidah is a PhD candidate in Public Health. She is currently writing a thesis on the contributing factors to childhood obesity in Brunei and the effectiveness of 'Team-based tailored Health Education' ('THE') among Bruneian parents and children. Before joining the PhD in Public Health programme, she completed an internship at the Health Promotion Centre, Ministry of Health, Brunei.  There, she focused on various NCDs in Brunei and developed an interest in combating obesity, which is a modifiable risk factors for cancer, one of leading causes of death in Brunei. She believes that this can be achieved by preventing and managing childhood obesity, as research has shown that obese children are more likely to become obese adults.
Publications
Murang ZR, Tuah N, Naing L (2017) Knowledge, attitude and practice towards eating and physical activity among primary school children in Brunei: A cross-sectional study. Int J Adolesc Med Health. doi: 10.1515/ijamh-2017-0118. 
Murang ZR, Tuah N (2017) Parental perceptions of factors influencing the development of childhood obesity in Brunei Darussalam: A cross-sectional study. Brunei Int Med J. 13 (1), 20-26.
Murang ZR, Muharram SH, Abiola OO (2014) Investigating Brunei's Seafood Markets for Vibrio Parahaemolyticus using the Most Probable Number-Polymerase Chain Reaction. Asian J Med Sci. 5(2): 33-39. doi: 10.3126/ajms.v5i2.8948.