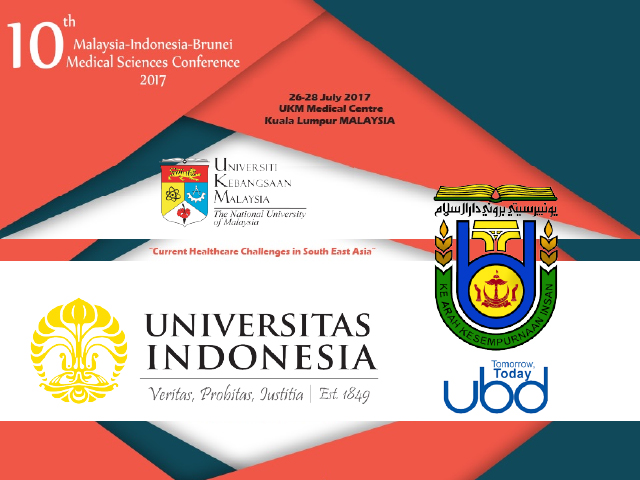 The 10th MIB Conference Co-Secretariats based in IHS are Dr Haiza, Dr Hanna and Dr Nurol. 

Interested participants from Brunei may contact and submit their abstracts to the 10th MIB Conference Co-Secretariats at mib.ihs@ubd.edu.bn. 
For more information regarding 10th MIB (Malaysia-Indonesia-Brunei) Medical Sciences Conference 2017, please click link.
Theme: Current Healthcare Challenges in South East Asia
Date: 26th-28th July 2017
Venue: UKM Medical Centre, Kuala Lumpur, Malaysia
TOPICS:
Tumour/Oncology
Musculoskeletal Disorder
Maternity/Child Health
Infection & Immunity
Non-Communicable Disease
Social Medicine
Bio Medical Science & Technology
Community Medicine
Medical Education.
Recommended hotel: Vivatel Hotel
Transport will be provided by the organisers.
Fees:
USD$250 For international participants
USD$100 for international students
Abstract Submission:
Abstract guidelines may be downloaded here [Abstract Guideline 2017].
Abstracts will be published in the UKM Journal - Medicine and Health.