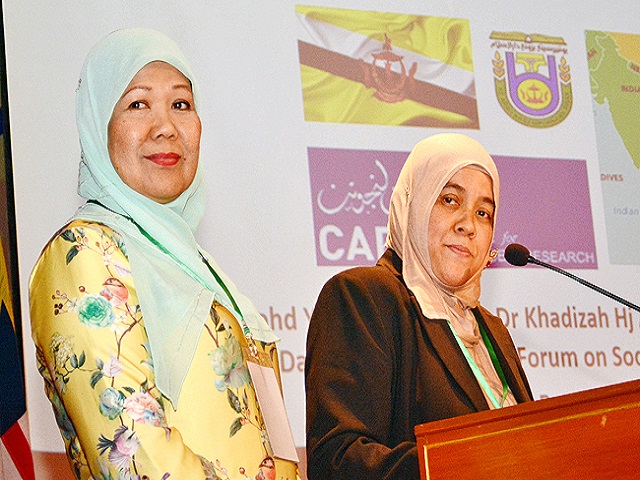 Dr Hajah Yusnani binti Mohd Yusof-Kozlowski and Dr Khadizah binti Haji Abdul Mumin PHOTO: JAMES KON
Women make up majority of older persons in ASEAN
By: James Kon
On: 11 October 2019
In: Borneo Bulletin > Headline > National
The 19th Meeting of the ASEAN Commission on the Promotion and Protection of the Rights of Women and Children (ACWC) Regional Forum on Strengthening Social Protection Policy focussed On Elderly Women and Ageing was launched at the Rizqun International Hotel by Minister of Culture, Youth And Sports Major General (Rtd) Dato Paduka Seri Awang Haji Aminuddin Ihsan bin Pehin Orang Kaya Saiful Mulok Dato Seri Paduka Haji Abidin yesterday.
Also in attendance were Legislative Council (LegCo) members, the ASEAN Commission on the Promotion and Protection of the Right of Women and Children, permanent secretaries and deputy permanent secretaries at the Ministry of Culture, Youth and Sports, as well as senior officers from ASEAN Communities on Women and senior officials meeting on Social Welfare and Development with the ASEAN Secretariat.
Following opening remarks by the minister, the participants attended the first session of the forum that featured a presentation on the overview of ageing in ASEAN by Head of the Poverty Eradication and Gender Division of the ASEAN Secretariat Dr Sita Sumrit.
She said, "By 2050, ASEAN's total population would reach 792 million and 21 per cent would be 60 years old and above, while the elderly age group of above 80 years old is expected to triple by 2050 and the Potential Support Ratio is estimated to go down from 11.4 in 2015 to 4.2 in 2050."
Describing the gender dimensions of ageing, she said, "On average, women tend to live longer than men, and thus the majority of older persons are women. For example, women account for 54 per cent of the global population aged 60 years old, and also 61 per cent of those aged 80 years and over in 2015. Women contribute in multiple ways in society like working, child care and long-term care. Women are frequently restricted from participation in the paid workforce, which results in negative impact in later life.
"In ASEAN, women make up the majority of older persons, with Brunei and Vietnam leading the member states with the higher percentage of women in the older demographic (UNESCAP 2019)."
Senior Assistance Professor and Programme Leader of Nursing/Midwifery at the Pengiran Anak Puteri Rashidah Sa'adatul Bolkiah (PAPRSB) Institute of Health Sciences Dr Khadizah binti Haji Abdul Mumin; and Dr Hajah Yusnani binti Mohd Yusof-Kozlowski from the Centre For Advanced Research (CARe) at Universiti Brunei Darussalam (UBD), said that 2018 population ageing statistics in Brunei reveal 39,795 (nine per cent of the total population) in the ageing population, whereby the breakdown is 19,568 for men and 20,277 for women.
The total dependency ratio was at 38.2 in 2017, which means that for every 100 workers, there are 38 people not of working age. The elderly dependency ration was at 5.7 in 2015 and is projected to increase to 35.1 by 2050, according to the United Nations' (UN) Department of Economic and Social Affairs, Population Division (2017) World Population.
Later, the forum participants heard a talk on support and care systems chaired by Susana Concardoarding from the Tsao Foundation, along with other panellists from Malaysia, Singapore and Vietnam. Dr Sita Sumrit chaired a session focussing on welfare and protection of senior citizens, involving panellists from Brunei Darussalam, Cambodia, Myanmar and Thailand.