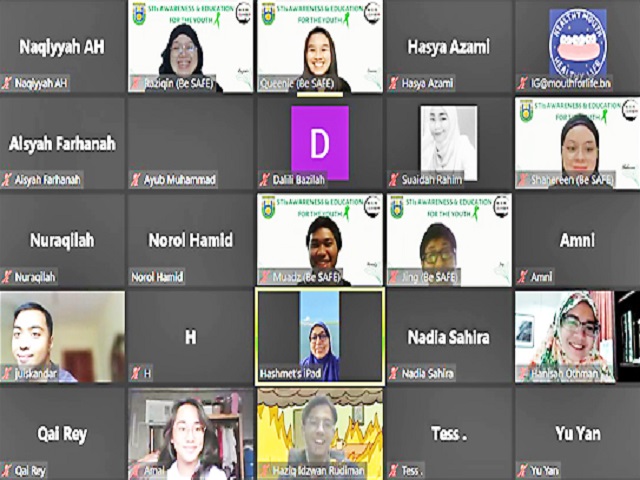 Be SAFE members and panellists during a virtual forum. PHOTO: BE SAFE
Awareness and safety go hand in hand
By: Rizal Faisal
On: 15 November 2021
In: Borneo Bulletin > Features
Despite a taboo on topics such as sex among the community, the need to raise awareness on the consequences of unsafe sexual practices prevails. This was the aim of a group of third-year medical students from Universiti Brunei Darussalam (UBD), who conducted their first two tours with talks on the topic, before the COVID-19 second wave hit the Sultanate.
As soon as the restrictions were in place, the team shifted the talks online to schools around the nation, observing the Ministry of Health (MoH) directives in curbing the spread of COVID-19.
Nur Raziqin binti Sabri, Queenie Yap Xiao Xuan, Ahmad Muadz bin Ali Bujang, Goh Jing En and Shahereen Fadzlinah binti Shahminan banded to create Be SAFE and are on a mission "to raise sexually transmitted infections awareness for everyone".
Be SAFE is supported by UBD, the Health Promotion Centre at the MoH and the Brunei Darussalam AIDS Council (BDAIDSCouncil), and is also sponsored by various organisations and companies.
The Be SAFE team shared with the Bulletin about their presentations to the schools which focussed on youth.
Sexually transmitted infections (STIs) and sexually transmitted diseases (STDs) are commonly spread and acquired through sex – specifically, through organisms present in body fluids of an infected person to an uninfected person.
The organisms are bacteria, parasites, viruses and fungi and treatments depend on the type of organisms involved in the infection.
The presentation also included sharing of the common STIs and statistics in Brunei. The most common STIs are chlamydia, gonorrhea, human papilloma virus (HPV), human immunodeficiency virus (HIV), hepatitis B and C, and syphilis. From a 2017 statistics health information booklet, Brunei recorded 32 cases of HIV (locals only) and 355 syphilis (all forms) cases, among others.
According to Be SAFE, STIs usually show no symptoms, but in other instances, would show signs of fever, lumps around the private areas, pain or burning sensation when urinating, frequent urination and swollen glands around the private areas.
Symptoms would also include itching, rashes, sores, blisters or pain in the private area, pain during intercourse, pus-like foul-smelling discharge from private parts and unusual vaginal bleedings for females.
The transmissions of these diseases are through sexual intercourse and mother-to-child during pregnancy, delivery and breastfeeding. It can also be transmitted through blood infection with direct contact or through infected needles or syringes.
Be SAFE mentioned that complications of STIs through gonnorhea and chlamydia are that they affect the reproductive organs and causes. Hepatitis B and C would lead to liver cancer while HPV leads to cervical cancer and genital warts. Through syphilis, it damages organs including the brain and eyes while through HIV, it ultimately causes AIDS.
The infections would also cause other consequences which are destructive to an infected individual. It can lead to social implications like family issues, divorce and embarrassment and psychological issues such as depression, anxiety and isolation.
Be SAFE shared the risk factors of contracting STIs to identify them as a way towards prevention. It usually spreads among people with multiple partners, alcohol and drugs use, unprotected sex, homosexuality and people with history of STIs.
To prevent, it is advised that abstinence is practiced among unmarried couples, use protection, being faithful and refraining from consuming alcohol and drugs.
Be SAFE also highlighted some myths and facts relating to STIs. It is a myth that only certain people get STIs as it does not discriminate between people. It is a fact that most STIs don't show signs and symptoms, therefore it is not easily identified.
Be SAFE also said that "people can be infected with more than one STI at one time".
An infected person can show no signs and symptoms, and still not be cured of it with organisms still remaining in the body without being fully treated.
STIs cannot be transmitted through sharing of food and utensils, while still able to infect another person through exchange of bodily fluids. Be SAFE also rebutted that a person may catch STI from sitting on a toilet and practise 100 per cent protection during sex.
The Brunei Government, although strongly encouraging prevention, provides diagnosis and treatments of STIs at any hospital and health centres. Services are also available at private clinics. The BDAIDSCouncil also offers free HIV testing for men.
Confidentiality of all test results is ensured at all times and if tested positive, the cases will be referred to a specialist clinic for confirmation and treatment.
Also, in a virtual forum titled 'STIs Awareness and Education for the Youth', panellists discussed similar topics and other issues in-depth.
The added issues covered the moral and spiritual aspects of sexuality, teachings of Islam regarding sexual health and the prevention of acts or situations that can lead to unwanted pre-marital sex.
The panellists were officials from the Health Promotion Centre Dr Hajah Norol-Ehsan binti Haji Abdul Hamid, Jerudong Park Medical Centre's Dr Hashmet Parveen and Siti Hanisah binti Haji Othman of Institut Tahfiz Al-Quran Sultan Haji Hassanal Bolkiah.