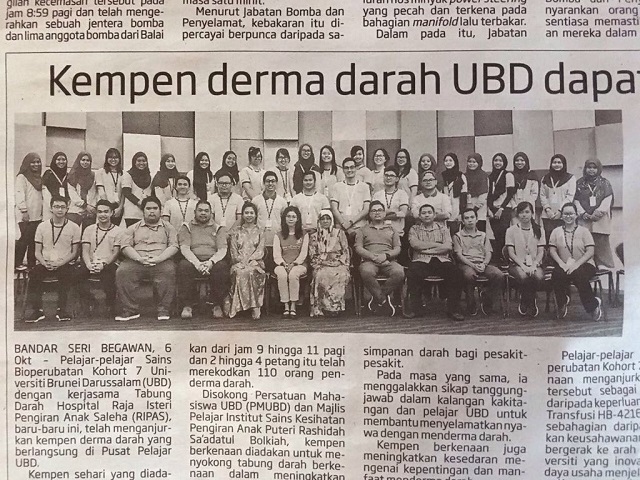 Media Coordinator: Muhd Zulhilmi Bin Hj Zaini
Blood donation campaign at UBD
On: 7 October 2017
In: Borneo Bulletin > National
STUDENTS of Universiti Brunei Darussalam's (UBD) Biomedical Sciences Cohort 7 in collaboration with Raja Isteri Pengiran Anak Saleha (RIPAS) Hospital Blood Donation Centre, organised a blood donation drive at the Student Centre, UBD recently.
Supported by the UBD Student Council (PMUBD) and Pengiran Anak Puteri Rashidah Sa'adatul Bolkiah (PAPRSB) Institute of Health Sciences Student Council (IHS SC), the donation drive was held to support the Blood Bank in raising the availability of blood products for patients. At the same time, it encouraged responsibility among UBD staff and students to help save lives through blood donation. The blood donation drive also increased awareness of the importance and benefits of donating blood.
The Biomedical Sciences Cohort 7 students organised the blood donation drive as a coursework requirement of their HB-4216 Transfusion Science module and as part of entrepreneurship education as UBD heads towards being an innovative and enterprising university by 2020.
The drive has become a long practice initiated by previous Biomedical Sciences cohorts. The organisation of the blood donation drive helped the 33 students in building their understanding of theoretical concepts of transfusion science and also improved their event management and communication skills.
A donor at the event.
Kempen derma darah UBD dapat sambutan
Pada: 7 Oktober 2017
Dalam: Media Permata > Nasional
BANDAR SERI BEGAWAN, 6 Okt – Pelajar-pelajar Sains Bioperubatan Kohort 7 Universiti Brunei Darussalam (UBD) dengan kerjasama Tabung Darah Hospital Raja Isteri Pengiran Anak Saleha (RIPAS), baru-baru ini, telah menganjurkan kempen derma darah yang berlangsung di Pusat Pelajar UBD.
Kempen sehari yang diadakan dari jam 9 hingga 11 pagi dan 2 hingga 4 petang itu telah merekodkan 110 orang penderma darah.
Disokong Persatuan Mahasiswa UBD (PMUBD) dan Majlis Pelajar Institut Sains Kesihatan Pengiran Anak Puteri Rashidah Sa'adatul Bolkiah, kempen berkenaan diadakan untuk menyokong tabung darah berkenaan dalam meningkatkan simpanan darah bagi pesakit-pesakit.
Pada masa yang sama, ia menggalakkan sikap tanggungjawab dalam kalangan kakitangan dan pelajar UBD untuk membantu menyelamatkan nyawa dengan menderma darah.
Penderma darah pertama dalam kempen derma darah tersebut.
Kempen berkenaan juga meningkatkan kesedaran mengenai kepentingan dan manfaat menderma darah.
Pelajar-pelajar Sains Bio-perubatan Kohort 7 UBD berkenaan menganjurkan kempen tersebut sebagai sebahagian daripada keperluan Modul Sains Transfusi HB-4216 dan sebagai sebahagian daripada pendidikan keusahawanan tatkala UBD bergerak ke arah menjadi universiti yang inovatif dan berdaya usaha menjelang 2020.
Kempen berkenaan telah menjadi amalan berterusan yang dimulakan oleh kohort sains perubatan sebelumnya. Penganjuran kempen menderma darah berkenaan telah membantu 33 orang pelajar dalam meningkatkan pemahaman mereka mengenai konsep teori sains transfusi serta memperbaiki kemahiran pengurusan acara dan komunikasi mereka.