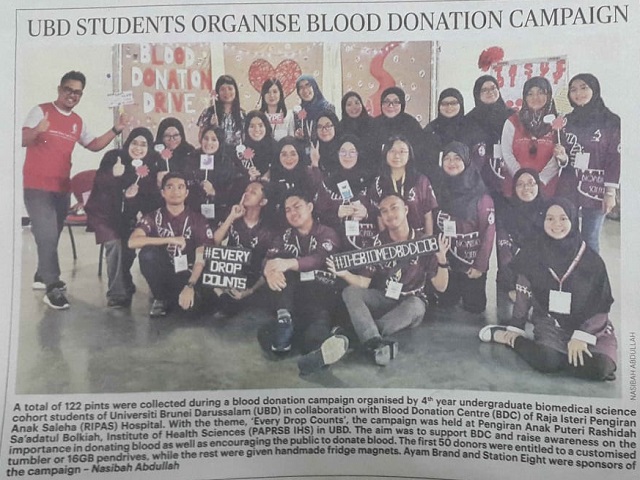 UBD STUDENTS ORGANIZE BLOOD DONATION CAMPAIGN
By: Nasibah Abdullah
On: 6 October 2018
In: Borneo Bulletin > National
A TOTAL of 122 pints were collected during a blood donation campaign organised by 4th year undergraduate biomedical science cohort students of Universiti Brunei Darussalam (UBD) in collaboration with Blood Donation Centre (BDC) of Raja Isteri Pengiran Anak Saleha (RIPAS) Hospital.
With the theme, 'Every Drop Counts', the campaign was held at Pengiran Anak Puteri Rashidah Sa'adatul Bolkiah, Institute of Health Sciences (PAPRSB IHS) in UBD.
The aim was to support BDC and raise awareness on the importance in donating blood as well as encouraging the public to donate blood.
The first 50 donors were entitled to a customised tumbler or 16GB pendrives, while the rest were given handmade fridge magnets.
Ayam Brand and Station Eight were sponsors of the campaign