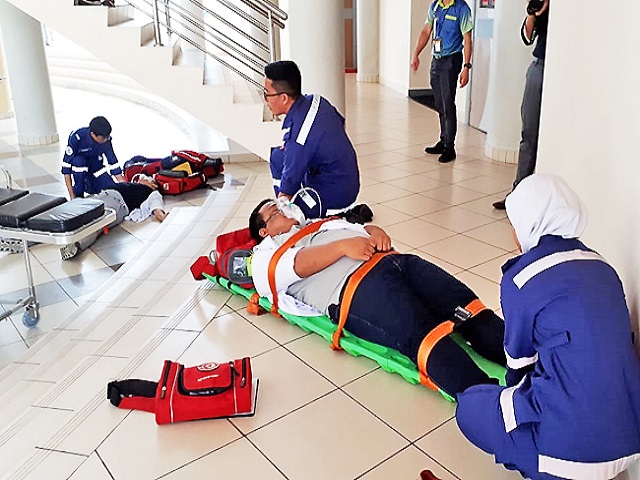 Medics attend to the injured. PHOTO: ISHAN IBRAHIM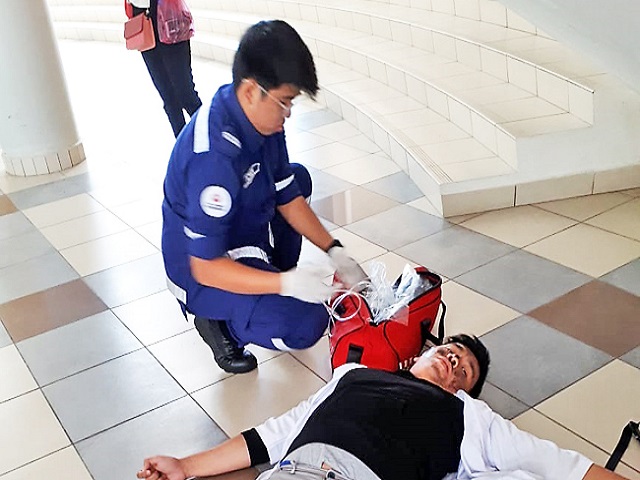 Lifesaving simulations kick off at UBD
By: Ishan Ibrahim
On: 13 September 2018
In: Borneo Bulletin > National
PENGIRAN Anak Puteri Rashidah Sa'adatul Bolkiah Institute of Health Sciences (PAPRSB IHS), Universiti Brunei Darussalam (UBD) was a hive of activity yesterday as the institute kick-started a series of emergency lifesaving simulations to celebrate Healthcare Simulation Week.
Healthcare Simulation Week is celebrated globally in September in honour of professionals who use simulation to improve safety, efficiency and effectiveness in the delivery of healthcare.
The PAPRSB IHS Healthcare Simulation Week was organised by the institute's simulation team with support from UBD's Occupational Safety, Health and Environment Unit (OSHE) and the Emergency Medical Ambulance Services of the Ministry of Health.
Themed 'Simulation Drill: Nurturing Readiness in Emergency Event' this year, it aimed at testing the efficiency of the fire emergency response procedures of the PAPRSB IHS as well as its management of mass-casualty situations.
PAPRSB IHS staff and students as well as students from the School of Health Sciences, Politeknik Brunei were involved in the exercises.
PAPRSB IHS has been actively involved in integrating simulation-based learning into its undergraduate programmes in medicine, dentistry, pharmacy, nursing and midwifery. The learning strategy is also employed for Politeknik Brunei's nursing, midwifery and paramedics diploma programmes.
The institute – which happens to be an international American Heart Association affiliated centre licensed to conduct training courses in first aid, basic life support and advanced cardiac life support – views the implementation of simulation exercises in its courses as one method of promoting Intra-Professional Education (IPE).