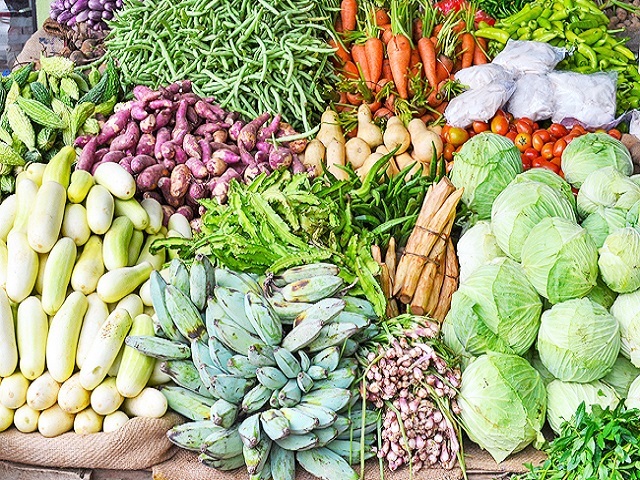 Vendors selling plant products outside the tin-roofed area in Tamu Kianggeh. PHOTOS: F MERLIN FRANCO

How local markets 'cure' plant blindness
By: Danial Norjidi
On: 6 February 2020
In: Borneo Bulletin > National
Local markets are culturally important spaces that bring people closer to each other, as well as to a diverse range of local plant species, according to a recent study published in the Journal of Ethnobiology and Ethnomedicine.
The study, titled Socialising over fruits and vegetables: the biocultural importance of an open-air market in Bandar Seri Begawan, Brunei Darussalam was conducted by Universiti Brunei Darussalam (UBD) researchers Dr Merlin Franco of the Institute of Asian Studies (IAS), Dr Li Ling of the Pengiran Anak Puteri Rashidah Sa'adatul Bolkiah Institute of Health Sciences (PAPRSB IHS), and Postgraduate students Nurzahidah and Siti Noraqilah.
The study states that, "The plant species in our environment are disappearing at an alarming rate. While this is a tragedy of our times, an even more appalling situation is where humans are unable to recognise the plant species existing in our environment."
"Scientists refer to this condition as 'plant blindness', which is believed to be the precursor for the eventual disappearance of the underappreciated species."
"We humans have a natural tendency to notice the disappearance of charismatic species such as lions and tigers from our environment. However, we take the plants in our environment for granted, not putting in enough effort to know their identity and the importance they have in local cultures and ecology."
A team of researchers at UBD interviewed adults visiting Tamu Kianggeh in Bandar Seri Begawan (BSB) in 2018. The study saw the team conducting a cross-sectional survey with 160 people visiting the Tamu Kianggeh.
According to the researchers, "We randomly interviewed every fifth adult visitor (over 18 years) leaving the market on Fridays and Sundays continuously for a month, using a structured questionnaire.
The questionnaire had 18 questions related to demographic particulars, reasons for visiting the market, vendor preference, social networking and visits to open-air markets and supermarkets."
They found that people visited the local market for the diverse range of local fruits and vegetables, and recorded 104 different kinds of fruits and vegetables from Tamu Kianggeh, including 26 species that are native to Borneo, and two endemic ones that are found only in Borneo.
The team of researchers said that local markets such as Tamu Kianggeh thus help in mitigating plant blindness.
According to them, getting people interested in the local edible plant species is the first step to attract people towards local plants and plant culture.
The researchers also added that policymakers should consider local markets as a platform for conducting activities such as exhibitions that highlight the economic, cultural and conservation values of plants.
It was shared that the interview respondents of the study rated the ability to make friends with vendors and fellow market visitors as a major attraction of the local market. Tamu Kianggeh attracts people of various ethnicities such as Malay, Kedayan, Iban, Dusun, Tutong, Chinese, and foreigners, serving as a platform to foster harmony between various communities. "An interesting finding of the study was that a substantial number of foreigners in Bandar Seri Begawan choose to visit the local market, and the likelihood of a foreigner to visit the market increases with increasing period of residency," stated the press release.
"This points to the ability of the local market in attracting even foreigners to the local plant culture."
The study also found that the majority of the respondents interviewed were of the opinion that every city should have an open-air market. "The Brunei Government has been providing continuous support to the local markets, and the study's findings indicate that such investment has made tangible impacts in bringing people closer to each other, as well as with the local plant species."