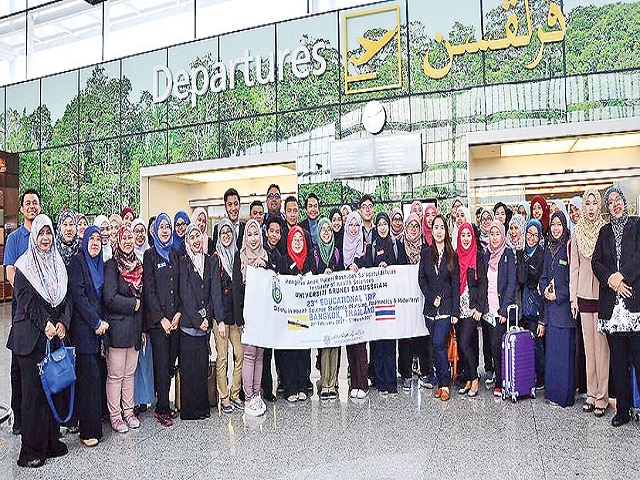 PAPRSB IHS delegation at the Brunei International Airport prior to departure. – AZIZ IDRIS
By: Aziz Idris
On: 28 February 2017
In: Borneo Bulletin > National
FINAL year Diploma students undertaking nursing and paramedic courses at Pengiran Anak Puteri Rashidah Sa'adatul Bolkiah Institute of Health Sciences (PAPRSB IHS), Universiti Brunei Darussalam (UBD), yesterday left for a seven-day educational trip to Bangkok, Thailand.
The group of 42 students and seven lectures will visit Mahidol University, Sukhothai Thammathirat Open University (STOU) as well as occupational health centres and facilities across Bangkok.
The visit aims to expose students to the healthcare settings and cultures outside Brunei Darussalam, as well as the international standard of healthcare management systems.
Siti Nurzimah Nazhirah binti Haji Zaim said she was most looking forward to visiting Mahidol University and STOU to see how their services are compared to back home.
"During the trip, I hope to be able to learn about the different lifestyles and see if treatment and healthcare varies according to lifestyle and culture as well. I'm also keen to see what technologies the hospitals are using," she added.
The educational trip comes as part of the recent Memorandum of Understanding (MoU) signed between PAPRSB Institute of Health Sciences and the Ministry of Public Health, Thailand.