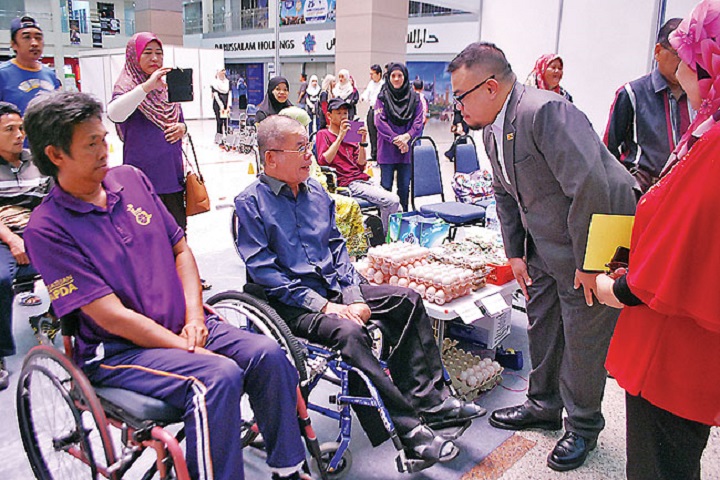 Legislative Council member Yang Berhormat Iswandy bin Ahmad interacts with members of Paraplegic and Physically Disabled Association (PAPDA). – ACHONG TANJONG
By: Achong Tanjong
On: 20 August 2018
In: Borneo Bulletin > National > Headline
DISABILITIES or being a special needs individual should not be a hindrance to one making positive changes or positively influencing their environment.
Relaying this message was Legislative Council member Yang Berhormat Iswandy bin Ahmad during the opening ceremony of the 'Secure Holistic Awareness by Providing Education (SHAPE) for The Community' project held at The Airport Mall, Berakas yesterday.
The community project is organised as part of the Bachelor of Health Sciences in Medicine (BHSc Medicine) programme under the Pengiran Anak Puteri Rashidah Sa'adatul Bolkiah Institute of Health Sciences, Universiti Brunei Darussalam in collaboration with the Association for Paraplegic and Physically Disabled Association (PAPDA), one of the non-governmental organisations (NGOs) under the Council for the Welfare of Persons with Different Ability (MKOKU).
Yang Berhormat Iswandy urged those involved in the project to continue with their efforts as community work is a long-term commitment. He also expressed his thanks and appreciation to all supporters of the project such as sponsors, coordinators and particularly to PAPDA for their commitment to working with each other.
"To achieve Brunei Vision 2035 which is to create quality, educated and highly skilled citizens, and to generate a dynamic and resilient economy, each of us has our roles to play, including those with disabilities," he said.
"The saying 'it takes a village to raise a child' rings particularly true here, each of your contribution is very important."
Meanwhile, Khaidiel Fiqrie bin Ahmad, a student of the BHSc Medicine programme, in his speech said, "The one-day community event titled 'SHAPE for The Community' comes with three main goals: to raise awareness and acceptance toward differently abled individuals, increase public education on physical disabilities, and raise funds for PAPDA.
"In this event we are focusing on a specific support group, namely PAPDA. I hope that through this project the society will be more aware of PAPDA and its differently abled members. We use the term 'differently abled' to replace the word 'disabled', to put more emphasis on their abilities, not their disabilities."
Yesterday's event also featured an exhibition, quiz sessions, performances by PAPDA members, sharing sessions, a wheelchair accessible obstacle course, and donation presentations.
Chief guest Yang Berhormat Iswandy also presented appreciation certificates to the event sponsors.