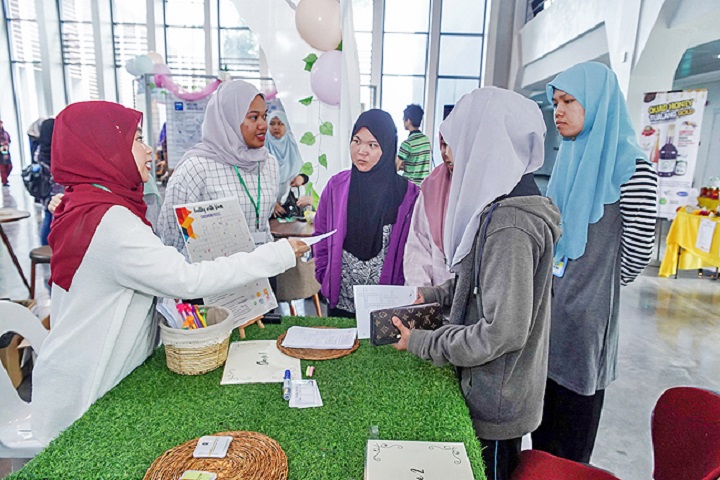 Students answer quizzes at the exhibition. PHOTO: RAHWANI ZAHARI
By: Wani Roslan
On: 20 August 2019
In: Borneo Bulletin > National
'Health with Islam', a community health initiative launched by Universiti Brunei Darussalam's (UBD) third-year medical students as part of their special study module of their Bachelor of Health Sciences (Medicine) programme, was recently held for two days at the concourse of the Pengiran Anak Puteri Rashidah Sa'adatul Bolkiah Institute of Health Sciences, Universiti Brunei Darussalam (PAPRSB IHS UBD).
A mini-exhibition on daily health practices in Islam was set up at the venue, featuring activities such as games, fitness challenges and basic health check-ups.
The project is aimed at informing the general public that Islamic practices, such as fasting and performing prayers, can be part of effective disease prevention strategies in reducing stress levels and inhibiting obesity.
The event will next be held at the Religious Teachers University College of Seri Begawan (KUPU SB) tomorrow before continuing at the Raja Isteri Pengiran Anak Saleha (RIPAS) Hospital on August 24 and at Universiti Islam Sultan Sharif Ali (UNISSA) on August 31.