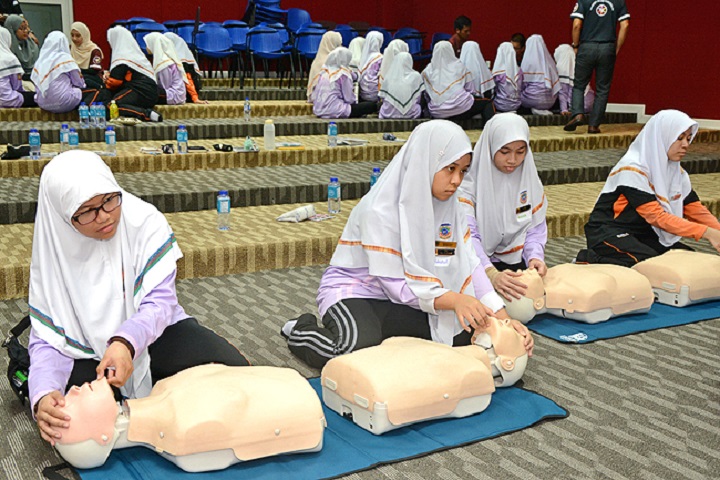 Students learn the proper CPR techniques. PHOTO: JAMES KON
Students learn life-saving skills
By: James Kon
On: 17 August 2019
In: Borneo Bulletin > National
Around 30 students from Pengiran Anak Puteri Hajah Masna Secondary School (SMPAPHM) recently learnt basic first aid through 'Future Lifesavers: First Aid Education for Secondary School Students', a community-based project to empower and enable youth to intervene in acute medical situations.
The students learnt about proper bandaging techniques, the treatment of sprains and how to administer CPR under the guidance of Nurul Hazimah binti Mohammad, Batrisyia Aqilah binti Haji Ahmad Ghazali, Nur Zakirah binti Hamdani, On Jing Yuan and Haji Muhammad Yazid bin Haji Muhammad Ariffin, who are third-year students at the Pengiran Anak Puteri Rashidah Sa'adatul Bolkiah Institute of Health Sciences (PAPRSB IHS), Universiti Brunei Darussalam.
Haji Muhammad Yazid said, "We noticed that first aid is a very serious topic within the school environment. As bystanders, students are usually the first to encounter medical emergencies. Therefore, providing first aid education should provide them with the basic knowledge and skills to manage these incidents, before professional help arrives."
SMPAPHM Sungai Akar was the first school to become involved in the project. Two other schools have also been chosen to take part – Pengiran Isteri Hajjah Mariam Secondary School (SMPIHM), Serasa and Raja Isteri Pengiran Anak Saleha Secondary School (SMRIPAS), Tutong.