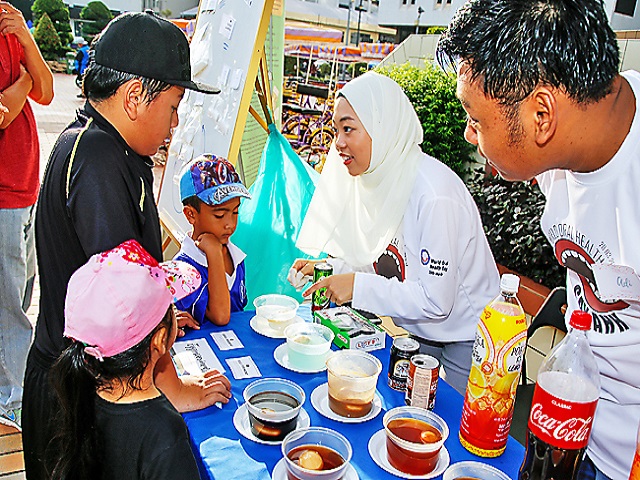 Universiti Brunei Darussalam Dentistry First Cohort students explaining sugar content to booth visitors. – PHOTOS: RAHWANI ZAHARI
By: Wani Roslan
On: 21 March 2018
In: Borneo Bulletin > National
THE First Cohort of Dentistry students from Universiti Brunei Darussalam (UBD) on Sunday organised the first UBD Oral Health event at the Taman Haji Sir Muda Omar 'Ali Saifuddien.
Themed 'Say Ahh! Think Mouth, Think Health', the event was held to commemorate World Oral Health Day which falls every March 20.
Speaking to the Bulletin, Lim Pei Chee, the leader of UBD Dentistry First Cohort said the main purpose of the event was to promote oral health hygiene including the technique on how to brush teeth and share facts with the public on the appropriate way to care oral hygiene.
"In line with this year's theme, we are trying to emphasise the link between oral health and general health. Not many people are aware that there is a link between the two," she said.
She added, "This is an extra activity we do outside our curriculum because it is relevant to our course. We also thought that it is beneficial to teach the public and promote awareness on oral health."