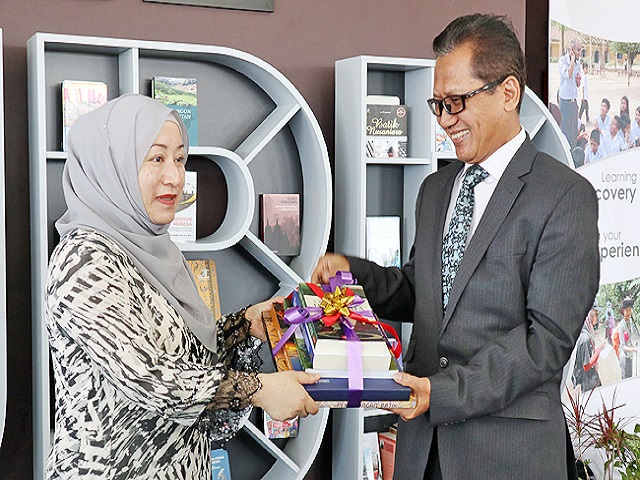 Ambassador of the Republic of Indonesia to Brunei Darussalam Dr Sujatmiko presents the books to Vice-Chancellor of UBD Datin Dr Hajah Anita Binurul Zahrina binti Pehin Orang Kaya Laila Wijaya Dato Seri Setia Haji Awang Abdul Aziz. PHOTO: ROKIAH MAHMUD
Indonesian Embassy donates books to UBD Library
By: Rokiah Mahmud
On: 14 February 2020
In: Borneo Bulletin > National
The Embassy of the Republic of Indonesia in Brunei Darussalam donated a collection of books yesterday to Universiti Brunei Darussalam (UBD) Library during a ceremony at the UBD Business Library. The books about Indonesia were aimed to enrich the literary contribution of the academic community in Brunei Darussalam while strengthening bilateral ties between both countries.
Ambassador of the Republic of Indonesia to Brunei Darussalam Dr Sujatmiko presented the books. Vice-Chancellor of UBD Datin Dr Hajah Anita Binurul Zahrina binti Pehin Orang Kaya Laila Wijaya Dato Seri Setia Haji Awang Abdul Aziz received the books.
Dr Sujatmiko highlighted strong cooperation between both countries especially in the field of education.
The collection of 50 books covered a wide range of topics relating to Indonesian literature, society and culture, language, science and environment, economics, history and law.
UBD is partnered with Universitas Indonesia, Institut Teknologi Bandung, Universitas Airlangga and Universitas Gajah Mada under the ASEAN University Network (AUN) with continuing academic and research collaboration, including staff and student exchanges via UBD's Discovery Year programme.
Under the Borneo Studies Network (BSN) consortium, whose Secretariat is currently led by UBD, it partnered with nine leading Indonesian universities in Borneo in the field of academic and research collaboration relating to Borneo studies.
At the faculty level, UBD's Pengiran Anak Puteri Rashidah Sa'adatul Bolkiah Institute of Health Sciences (PAPRSB IHS) collaborated with the Universitas Airlangga Faculty of Nursing in research as well as staff and student exchanges. UBD is currently host to 15 degree students, five exchange students and eight academic staff members from Indonesia.