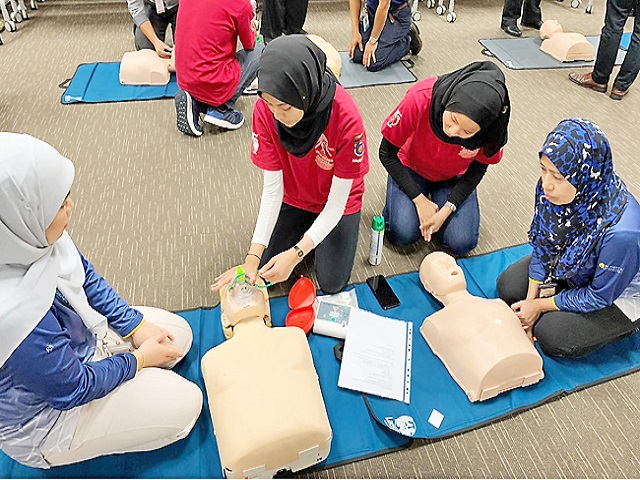 The 'Your Heart Matters' team educates the public on Cardiopulmonary Resuscitation (CPR) procedures. PHOTO: YOUR HEART MATTERS
Make a difference, save lives
By: Rizal Faisal
On: 15 October 2020
In: Borneo Bulletin > Lifestyle
Sudden Cardiac Arrest (SCA) is triggered by an electrical malfunction in the heart that causes an irregular heartbeat. With a disrupted pumping action, the heart cannot supply enough blood to other organs which can lead to damage or even death.
This was stated by the 'Your Heart Matters' team – a project of third year medical students from the Pengiran Anak Puteri Rashidah Sa'adatul Bolkiah Institute of Health Sciences (PAPRSB IHS), Universiti Brunei Darussalam (UBD) under the supervision of their lecturers and a cardiologist – in an interview with the Bulletin.
Your Heart Matters, created after the students carried out a study on the Outcome of Cardiac Arrest in Brunei from 2017 to 2019, has five members – Nabilah Fadzilah binti Haji Johani, Adibah Syahmina binti Mohammad Amin, Siti Nabihah binti Haji Sahralidin, Amal Azimah binti Haji Johar and Muhammad Amirsalman bin Nor Azman.
"The study found that the majority of cases happens at home and did not know the signs of SCA and what should have been done to save the victims," the team said. "It is important for the public to note the symptoms of SCA which include loss of consciousness, unresponsiveness and no breathing or only gasping."
Muhammad Amirsalman highlighted that SCA can happen to anyone – be it a stranger, a loved one or even ourselves.
"The public can actually help save the victims during the medical emergency. This is why the Your Heart Matters team aims to increase awareness on SCA and educate the public on Cardiopulmonary Resuscitation (CPR) procedures. Several sessions were carried out at workplaces including government agencies and private companies throughout September and in early October with the hope that the public can help make a change and save lives," he said.
At these sessions, participants had the opportunity to practise CPR techniques using mannequins. The public could also witness the session via a Zoom online briefing session, where those interested were invited to come to PAPRSB IHS, UBD a week after the online session.
"We are grateful to have received a convincing response from the public with 153 participants," said Muhammad Amirsalman.
"We are also proud to have collaborated with the Gleneagles JPMC Cardiac Centre for an event in conjunction with World Heart Day 2020," he added.
The event focussed on raising awareness on SCA and the correct CPR procedure while also highlighting the conditions that predispose SCA including diabetes, hypertension, coronary heart disease and many more as well as the importance of a healthy heart lifestyle.
Held at Level 3 Concourse Area, Extension Building, PAPRSB IHS, on September 30 and October 1; the event included activities such as calculating body mass index, and checking blood pressure, and blood glucose; a simpler procedure of electrocardiogram using two fingers; a CPR demonstration; and exhibitions on a healthy heart.
Also made available was a booth where participants could write encouraging words to motivate the public towards a healthy heart or personal experiences with regards to heart conditions, whether it was themselves or close family or friends, anonymously.
"We hope that there will be an increase in awareness of heart and general health to help prevent and control conditions that predispose SCA. Together we can work towards a healthy heart community," Muhammad Amirsalman said.