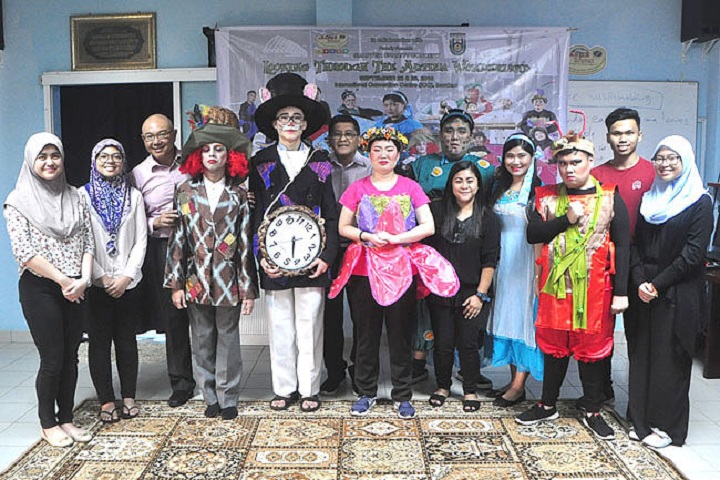 Health and wellness in Islam
By: Hakim Hayat
On: 31 July 2018
In: Borneo Bulletin
THE Society for the Management of Autism Related issues in Training, Education and Resources (SMARTER) Brunei in a bid to raise more awareness on autism in the country through creative arts, is set to revive its musical charity concert in September.
Over 100 students from SMARTER will be involved in the production of the fifth instalment of its musical charity concert, Looking Through The Autism Wonderland, in collaboration with students from Universiti Brunei Darussalam (UBD)'s Pengiran Anak Puteri Rashidah Sa'adatul Bolkiah (PAPRSB) Institute of Health Sciences (IHS). The previous instalment was last held in 2014.
The concert is slated to take place at the Main Conference Hall of the International Convention Centre (ICC) in Berakas, September 22-23, with the centre's students, their family members and staff as they present their creative capabilities.
President and CEO of SMARTER Brunei Malai Haji Abdullah bin Malai Haji Othman in a press conference at SMARTER's Brunei Autism Centre for Adults (BACA) in Kampong Sungai Hanching yesterday, with the concert's Artistic Director Low Kok Wai, a former UBD lecturer and now Theatre Director of Asia-Pacific Bureau of Theatre Schools in Singapore, said that this will be the centre's first collaboration with PAPRSB IHS.
The concert not only aims to raise funds to keep the centre sustainable, but the collaboration is also a part of their drive to raise awareness for acceptance and action by the community, according to them.
The event will allow SMARTER students to showcase their strengths, talents and abilities, highlighting their desire to be just like everybody else – appreciated, acknowledged and respected by the community.
"We want to break the stereotyping of negative and aggressive behaviours associated with autism that causes discrimination, marginalisation, and stigmatisation to individuals with autism," added Malai Haji Abdullah.
SMARTER students will also have the opportunity to experience different social scenarios and increase their quality of life through active participation, as well as continue their sensory integration, develop and enhance their self-confidence, self-esteem and self-image.
Fund raising events such as a donation drive and garage sales will also be held before the concert to raise funds. Malai Haji Abdullah said that he hopes to see more institutions, business entities, government agencies and youth-oriented non-governmental organisations (NGOs) to collaborate with in the near future.
The show is an adaptation of the classic Alice's Adventures in Wonderland.
The first day of the show is open to the public, while tickets for the final show will be sponsored by generous companies who will invite students from different schools across the country.
Low said that they hope to deliver a top-notch production, and mentioned that SMARTER students and staff have already started rehearsing on a daily basis in anticipation of the concert.
The collaboration between SMARTER Brunei and PAPRSB IHS is the first of its kind, and is a project conceived by a group of third year medical students as part of a community outreach special study module. They aim to enhance autism awareness in the Sultanate and raise funds up to BND100,000 through the concert for the continuity of SMARTER.
A donation collection drive will be held at PAPRSB IHS from tomorrow to August 4. Members of the public are invited to donate items such as pre-loved clothes, money, toys and electronic appliances that will be auctioned at a garage sale at a later date.
Tickets for the concert will also be sold during the donation drive and garage sale.