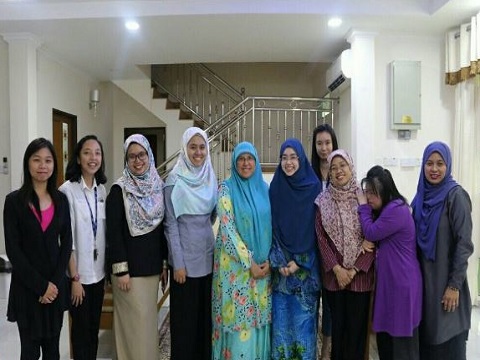 Those in attendance at proceeds handover ceremony on Aug 8, 2017
Following the success of the first IHS Carnival in 2016, students from the IHS Student Council formed an event's committees to organize a fun and successful IHS Carnival from 29th to 31st March 2017.
Associate Professor Dr Anne Cunningham (IHS Deputy Dean of Research, Graduate Studies and Global Affairs), Awang Tuming Haji Jais (President of ABLE, the Down Syndrome Associaton in Brunei), and Mohammad Ashmeer Imtiaz Ahmad (President of Persatuan Mahasiswa UBD) attended the IHS Carnival as guests of honours in the opening ceremony. Fatin Batrisyia Nadiah Hj Marzuki (senator of IHS Student Council 2016/2017) gave welcoming remarks.
The main objective of the IHS Carnival was to provide financial support to ABLE ("Ability Built through Learning and Experience"), which is Brunei's Down Syndrome Association. Half of the proceeds from the event was donated to ABLE through the Vice Yang Di-Pertua of ABLE, Siti Zaliha Hj Awang Salim.