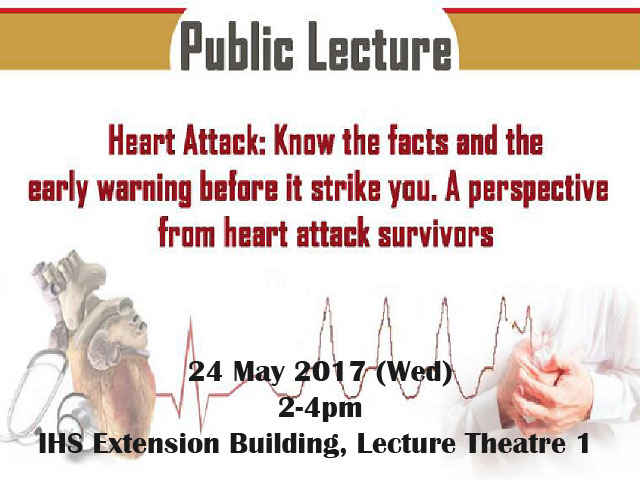 Heart Attacks: Know the Facts, Act Fast and Save a Life
On: 10 May 2017
In: Borneo Bulletin > National
A LECTURE to better understand and manage heart attacks for the public will be held on May 24 at the Pengiran Anak Puteri Rashidah Sa'adatul Bolkiah Institute of Health Sciences (PAPRSB IHS), Universiti Brunei Darussalam (UBD).
Mohd Khairulamin Sungkai, a Nursing Lecturer from the PAPRSB IHS, will present the lecture entitled, 'Heart Attack: Know The Facts and Early Warning Before It Strikes You. A Perspective From Heart Attack Survivors', from 2pm to 4pm at the institute's Lecture Theatre 1 in the extension building.
The presentation will be held in both Malay and English languages.
According to a 2015 statistics released by the Ministry of Health (MoH), cardiovascular diseases are the second leading cause of death in Brunei Darussalam after cancer. Heart attacks are also the second cause of death among cardiovascular diseases.
It is also found that men are more likely to experience heart attacks than women.
While heart attacks can occur suddenly, they can also gradually happen with signs occurring over a period of time and early recognition of these symptoms can help with survival rates.
With the mission of 'Know the facts, act fast and save life', the public lecture based on heart attack survivors' experiences is aimed at creating awareness through the dissemination of facts about heart attacks, early warning signs and symptoms as well as a demonstration of basic life support cardiopulmonary resuscitation (CPR) which will be led by certified American Heart Association (AHA) basic life support instructors.
There is no registration fee for the lecture. Participants can find out more about the lecture and sign up by sending an email to khairulamin.abdullah@ubd.edu.bn.