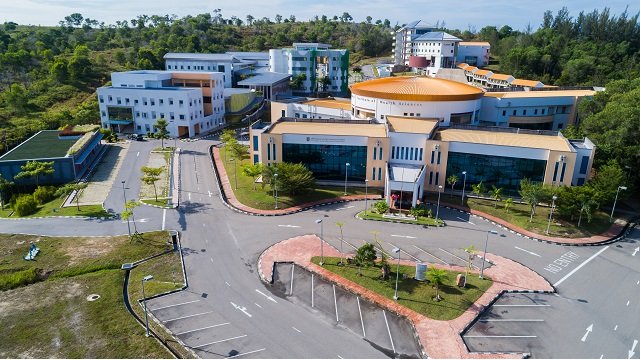 By: Aziz Idris
On: 18 May 2017
In: Borneo Bulletin > National
A NURSING and Midwifery forum was held at the Pengiran Anak Puteri Rashidah Sa'adatul Bolkiah Institute of Health Sciences (PAPRSB IHS), Universiti Brunei Darussalam (UBD) yesterday, which saw the attendance of healthcare professionals, graduate nursing students, nurses and midwives.
Held in observance of International Nurses and Midwives Day 2017, the event featured Datin Paduka Hajah Rokiah binti Haji Zakiah, Datin Paduka Hajah Suraya Noraidah binti Abdullah, Hajah Norzihan binti Ibrahim, Haji Julaini binti Latip, Chung Yea Fui and Hajah Ramlah binti Kisut as forum speakers.
In her welcoming address, chief guest Datin Paduka Hajah Rokiah said the forum was aimed at building networks for potential clinical and research collaborations between PAPRSB IHS and other nursing organisations in Brunei.
Themed 'Making a difference', the forum was divided into three 45-minute sessions: Education, Practice and Innovation, and Research in Nursing and Midwifery.
Senior nurses and midwives from PAPRSB IHS, the Brunei Darussalam Nurses Association (Penjuru), Private Sector Nursing Services, the Ministry of Health and the Jerudong Park Medical Centre (JPMC) delivered presentations focused on the sharing of clinical, educational and research experiences on nursing and midwifery in the Sultanate.
With no registration fee, the forum was open to all academics, healthcare professionals, graduate nursing students, nurses and midwives from across Brunei, who wished to share and learn more about education, practice and research in the fields of nursing and midwifery.
Prior to the forum, various events and activities were organised by nursing and midwifery departments in government and private organisations across the country. They included mass Maghrib and Isyak prayers, together with a Tahlil recitation on May 11; and a nurses-midwives parade during the Bandarku Ceria event on May 14.
The International Day of Midwives (IDM) is celebrated around the world on May 5, and the International Confederation of Midwives (ICM) gave this year's theme as 'Midwives, Mothers and Families: Partners for Life!'.