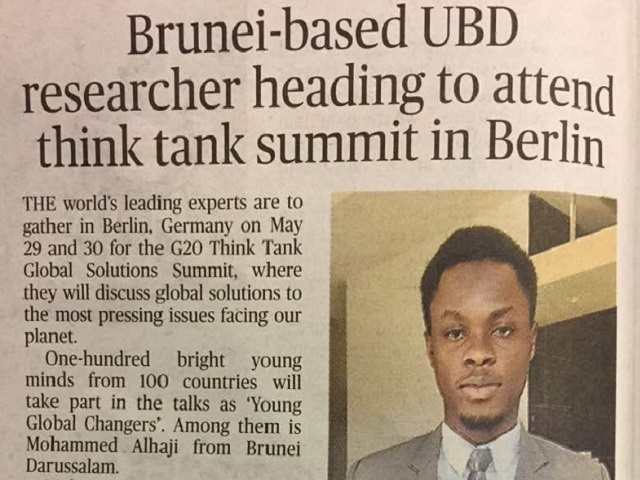 Brunei-based UBD researcher heading to attend think tank summit in Berlin
On: 19 May 2017
In: Borneo Bulletin > National
THE world's leading experts are to gather in Berlin, Germany on May 29 and 30 for the G20 Think Tank Global Solutions Summit, where they will discuss global solutions to the most pressing issues facing our planet.
One-hundred bright young minds from 100 countries will take part in the talks as 'Young Global Changers'. Among them is Mohammed Alhaji from Brunei Darussalam.
Mohammed Alhaji, 25, is currently a doctoral researcher in public health at Universiti Brunei Darussalam (UBD). He worked with a Nigerian NGO, helping improve the health and social wellbeing of hard-to-reach women.
The G20 Think Tank Global Solutions Summit, mandated by the German G20 Presidency, will bring young visionaries from around the globe to Berlin.
The scholarship programme aimed at individuals with a passion for change and backgrounds in social volunteering, academia, technology, start-ups, journalism, or blogging.
The summit is interested in involving the views and ideas of the next generation into global problem-solving.
Scholarship recipients will take part in a number of high-level side events and become part of an exclusive network of like-minded professionals.