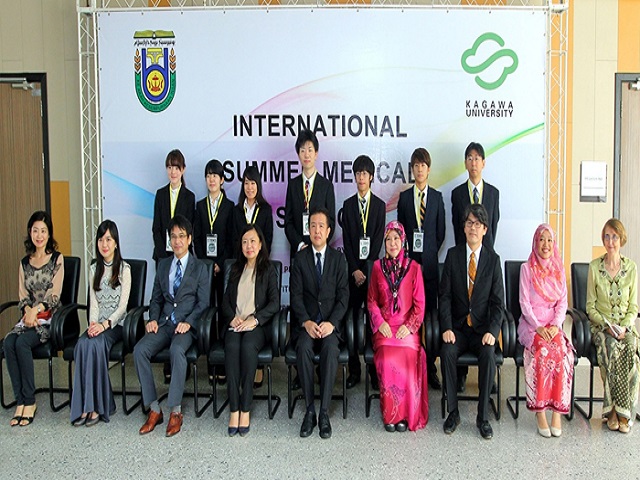 Charge d'Affaires of the Embassy of Japan in Brunei Darussalam cum guest of honour, H.E. Dr. Toshio Kaneko, in a group photo with the new exchange students from Japan.
PHOTO: COURTESY OF PELITA BRUNEI (Pg. Amirulnizam Pg. Haji Mohd. Ali)
Japanese Students Begins 10th ISMS Programme at UBD
By: BruDirect.com
On: 26 July 2016
In: BruDirect.com > Home > School
The opening of the 10th International Summer Medical School (ISMS) programme sees the participation of seven students from Kagawa University's Faculty of Medicine as part of their month-long exchange programme with Universiti Brunei Darussalam (UBD).
Held at the Pengiran Anak Puteri Rashidah Sa'adatul Bolkiah Institute of Health Sciences (PAPRSB IHS) in Universiti Brunei Darussalam (UBD) yesterday, the event opened with a welcoming speech by Programme Coordinator Dr. Shirley Huan Fang Lee.
She acknowledged the close working relationship between UBD and Kagawa University, Japan, which began with the lst International Summer Medical School in July 2006.
Since then, both universities have signed a series of memorandum of understandings (MoUs), establishing several successful collaborative partnerships in the areas of medicine, health, academic activities, student exchanges but more importantly, successful partnerships in research activities under the Bilateral Joint Research Project.
Charge d'Affaires of the Embassy of Japan in Brunei Darussalam cum guest of honour, H.E. Dr. Toshio Kaneko expressed the general feeling of success with the cooperation between the two educational institutions.
Officially launching the event, he noted that the programme will not only help to develop the practical skills of the seven participants, but it will also enhance their communication skills and global mindset as they absorb a period of learning the Brunei culture during their stay.
The partnership between UBD and Kagawa University is not limited to people-to-people exchanges. In the field of research, they have embarked on approaches to solve the problems of obesity and diabetes. In this context, Kagawa University develops its research in collaboration with UBD to put rare sugars to practical use.
Dr. Toshio Kaneko explained that the variety of sugar is rare in nature and difficult to procure, though there are more than 100 kinds of them.
With the dedication of researchers at Kagawa University, the method of mass production of certain kinds of rare sugar was invented, he said.
He elucidated that these rare sugars are of low calories and can function to lower blood sugar levels after meals, and hence have the potential to solve lifestyle related diseases, which has become common in both countries.
Meanwhile, in another address, the coordinator of the International Exchange Committee in Kagawa University, Professor Kenji Wada, said the participating students will have an excellent opportunity to learn clinical and communication skills, an advantage that is difficult to come by in their home country.
The students can forge close relations with their Brunei counterparts, and gain invaluable experience throughout their stay in the country.
Dean of PAPRSB IHS Dr. Dayang Hajah Rafidah binti Awang Haji Gharif later presented souvenirs to the participants.
The 10th International Summer Medical School is a significant achievement to UBD in promoting student exchanges in its role as an international university. The joint initiative reflects the concerted partnership between the two institutions in academic and exchange activities as part of the universities' mission in developing society through cultivation of intellect and culture through similar collaborative activities.
The students will engage in structured academic activities that complement their theoretical knowledge and practical skills in the medical field.
Participants will also gain experience in Brunei from social and cultural perspectives through recreational activities and homestay programmes, introducing them to the culture, customs and way of life in Brunei Darussalam.