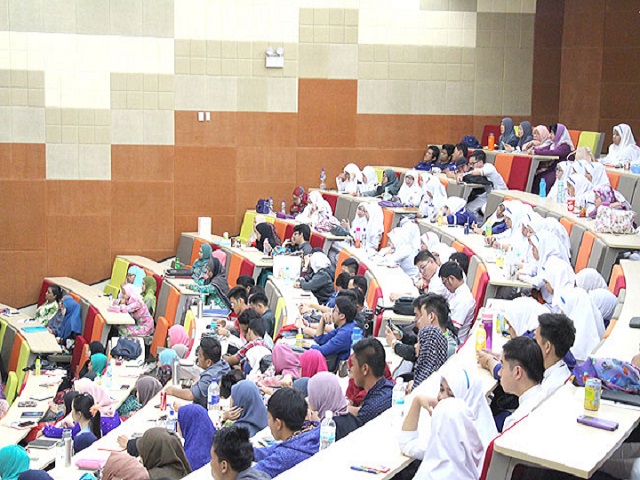 A section of students present during the lecture. Picture credit: Izah Azahari.
By: Izah Azahari
On: 16 August 2016
In: Borneo Bulletin > National
THE Pengiran Anak Puteri Rashidah Sa'adatul Bolkiah Institute of Health Sciences (PAPRSB IHS) of Universiti Brunei Darussalam (UBD) in cooperation with the Faculty of Medicine Siriraj Hospital of Mahidol University, Thailand, began its first ever Global Classroom Programme yesterday at the Lecture Theatre of PAPRSB IHS.
The first lecture for the programme was entitled 'Use of technology in nursing and midwifery management' conducted by Assistant Professor Wanna Phahuwatanakom, coordinated by Dr Khadizah binti Haji Abdul Mumin of PAPRSB IHS.
Attending the lecture were 220 students under the Diploma in Health Sciences who major in Paramedic, Nursing or Midwifery, as well as those taking Degree in Midwifery and Nursing.
The global classroom yesterday focused on the types of nursing technology, technology used in midwifery, e-health, and education through internet among others.
In an interview with Dr Khadizah, she stated that the topics were initially proposed by IHS's previous deputy dean which was later picked out by lecturers according to the relevance of the topics to Nursing, Midwifery and Paramedic.
The objective of the Global Classroom is to enhance cooperation between UBD's PAPRSB IHS and Mahidol University's Siriraj Hospital Faculty of Medicine; to share knowledge between the universities; sharing expertise from Mahidol University with UBD; and to make sure students experience technology through asking questions to those in Mahidol University in the Global Classroom.
"We plan to have more video conferences with about six or seven series of lectures, but in the future we are looking into more collaboration in terms of what those in IHS can deliver, as well as participation from students in Mahidol too to make it a livelier video conference," added Dr Khadizah.
PAPRSB IHS welcomes students from other faculties and those from the Ministry of Health in joining in the Global Classroom, with the next class on August 24 from 2pm to 3.30pm on 'Acute coronary syndrome' by Associate Professor Nattawut Wongpraparut.
Other classes will be held on September 1 entitled 'Food Safety'; September 15 on 'Pathogenesis of ischemic stroke'; September 26 on 'Strategies for promoting health to the community'; September 28 on 'Common Parasistic Diseases in Souteast Asia'; and September 29 on 'Updates on prevention and control of new emerging communicable diseases', which will all be held at the Lecture Theatre of PAPRSB IHS from 2pm to 3.30pm.