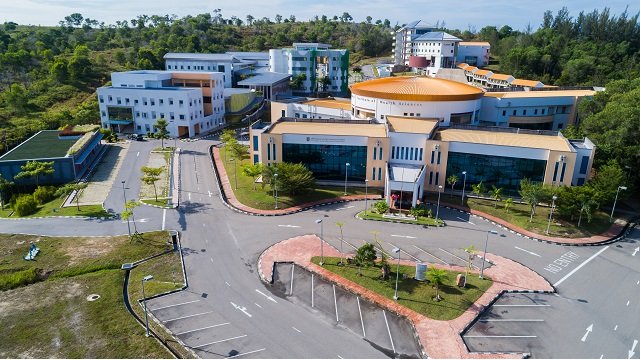 Sitting for long? You are inviting death
By: Achong Tanjong 
On: 22 January 2018
In: Borneo Bulletin > National
THOSE who spend 10 or more years doing sedentary work, have twice the risk of getting colon cancer.
This was highlighted by Professor Dr David Koh yesterday, during the 3rd National Scientific Symposium, held at the Pengiran Anak Puteri Rashidah Sa'adatul Bolkiah (PAPRSB) Institute of Health Sciences (IHS) of Universiti Brunei Darussalam (UBD).
In his talk titled, 'Is Sitting the New Smoking?' Professor Dr Koh said that long periods of sitting can lead to serious health consequences.
"On average, office workers sit for 76 per cent of the day," he said. "Evidence suggests that prolonged sitting increases the risks for cancer, cardiovascular diseases (CVDs) and death. Those sitting for 11 hours a day have a 40 per cent risk of death within the next three years, compared to those who sit for four hours a day. Prolonged sitting is an independent risk factor, even if you exercise regularly. Long period of sitting are a suspected risk factor for musculoskeletal disorders – even short, regular breaks from sitting are beneficial for workers' health."
Professor Dr Koh also said that the 5.3 – 5.7 million deaths from non-communicable diseases (NCDs) worldwide could have been prevented, if people were sufficiently active. "Being active helps, but it is not enough. Avoid sitting, especially prolonged bouts," he said.
Meanwhile, Dayangku Dr Ha-jah Norazieda binti Pengiran Haji Md Yassin in her talk, 'Risk Factors for Stroke', said that the condition is the leading cause of disabilities and the second leading cause of death, globally.
"In 2008, it caused six million deaths and every year, around 15 million people suffer from it," she said.
"In Brunei it is the leading cause of death, where in 2016, it caused 123 fatalities. The most important thing to remember about stroke is that it can happen to anyone at anytime, anywhere."
Jointly hosted by the Brunei Darussalam Association of Medical Laboratory Scientists (BAMLS) and the PAPRSB IHS of UBD from January 19-21, the symposium featured nine workshops and nine conferences on the themes cancer, lifestyle diseases and infectious diseases.
Under the theme 'Innovation Precision Medicine for Patient Care', the three-day event provided a platform for medical scientists and experts to share their views regarding laboratory and clinical medicine, with regard to patient care.