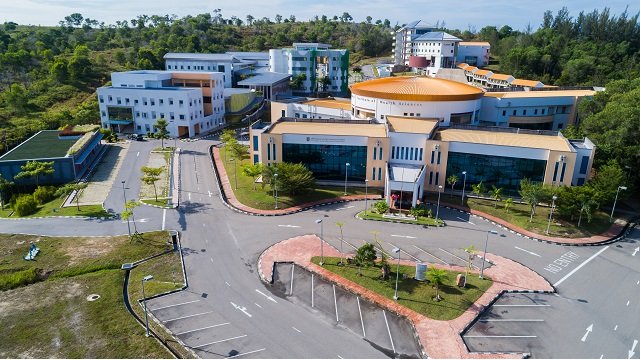 By: James Kon
On: 30 January 2018
In: Borneo Bulletin > National > Headline
THE Pengiran Anak Puteri Rashidah Sa'adatul Bolkiah Institute of Health Sciences (PAPRSB IHS) of Universiti Brunei Darussalam (UBD) has recently received American Heart Association's (AHA) accreditation as one of its training centres.
With the new status as AHA International Training Centre, PAPRSB IHS is now licensed to provide AHA-certified Basic Life Support (BLS), Advanced Cardiovascular Life Support (ACLS) and Paediatric Advanced Life Support (PALS) courses as well as conduct first-aid and heart-saver training.
The BLS, ACLS and PALS courses are exclusively for healthcare professionals, while the first-aid and heart-saver training is open to all which will be conducted throughout the year with the target of training at least 500 participants annually.
The first batch of 22 paramedical trainees yesterday attended the BLS course following an opening ceremony.
Dr Hajah Rafidah binti Haji Gharif, Dean of PAPRSB IHS, in her welcoming remarks said, "To be approved as one of the AHA training centres, marks another milestone for the institute.
"It shows the capability of the institute to provide high-quality and globally recognised training courses."
She noted that currently there are five AHA-certified BLS instructors and they have completed the assessment to be a certified as an AHA instructor by Universiti Kebangsaan Malaysia, one of the AHA International Training Centres in the region.
"With the certification, the instructors are licensed to conduct BLS, ACLS and PALS courses," she said, adding that PAPRSB IHS will be training more instructors for conducting the first-aid and heart-saver courses in the days to come.
"I understand that you will be taught how to perform high-quality Cardiopulmonary Resuscitation (CPR) and give effective breath using barrier devices, the correct use of automatic electrical defibrillator as well as effective team dynamics and choking management. I believe that it is useful in the event of an emergency outside your training and clinical areas," Dr Hajah Rafidah binti Haji Gharif told the participants.
"It is reported that among cardiovascular diseases, heart attack is the second major cause of death in the country. Therefore, let us together strive to save more lives and disseminate the importance of early CPR to colleagues, friends, families and the general public," Dr Hajah Rafidah said.
PAPRSB IHS will be offering the training courses in phases, starting with the BLS training which commenced yesterday. The heart-saver and first-aid training will be held at least twice a month, beginning February 3.
Upon completion, each participant will be presented with an AHA-certified completion card and certificate which is valid for two years. For further information, members of the public can contact cprtraining.ihs@ubd.edu.bn.