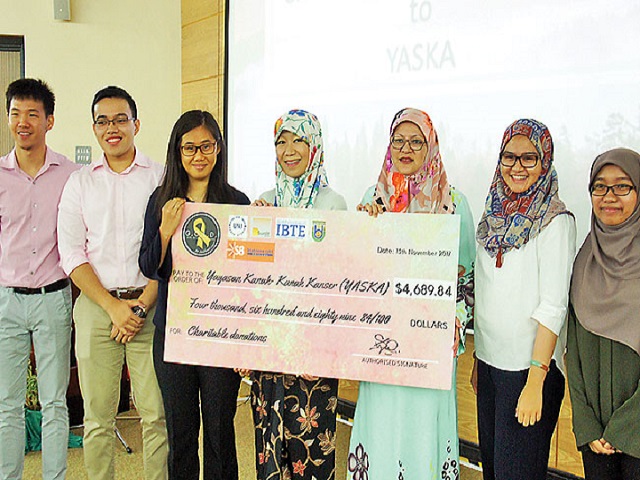 The presentation of mock cheque to Tsara 'Nawwarah binti Abdullah Chen, Treasurer of YASKA. – ROKIAH MAHMUD
UBD medical students' community project raises $4,690 for YASKA
By: Rokiah Mahmud
On: 14 November 2017
In: Borneo Bulletin > National > Headline
FIVE medical students from Universiti Brunei Darussalam (UBD) embarked on a community project entitled 'Gift of Life Donations (GOLD) for Childhood Cancer' yesterday, handing over a donation to YASKA (Children's Cancer Foundation).
The donation, which totalled $4,689.84, was gathered from fundraising projects aimed at supporting YASKA's programmes and activities for child cancer patients at hospitals. The group of students organised a four-day donation drive and garage sale at Bandarku Ceria and a three-day charity bazaar at UBD.
Their project garnered interest and support from various faculties in UBD including the Sultan Hassanal Bolkiah Institute of Education (SHBIE) and School of Business and Economics (SBE), as well as other higher education institutions such as Institute of Brunei Technical Education (IBTE). The donations were made to YASKA so that the foundation is able to organise events for the children in the future and cover treatment expenses for non-local children who are encountering financial difficulties.
"We are happy to have done this for YASKA," explained Soon Jian Jun, one of the medical students. "We have learned a lot from this community project alone. It gave us the opportunity to contribute to the community and helps educate the public about childhood cancer. We hope that similar projects will be held in the future."
On hand to receive the donation on behalf of YASKA was Tsara 'Nawwarah binti Abdullah Chen, a senior occupational therapist at Raja Isteri Pengiran Anak Saleha (RIPAS) Hospital and Treasurer of YASKA.
YASKA is a non-governmental organisation which focusses on providing support for children with cancer and their families while undergoing treatment. It also provides education and awareness on children's cancer in Brunei Darussalam.