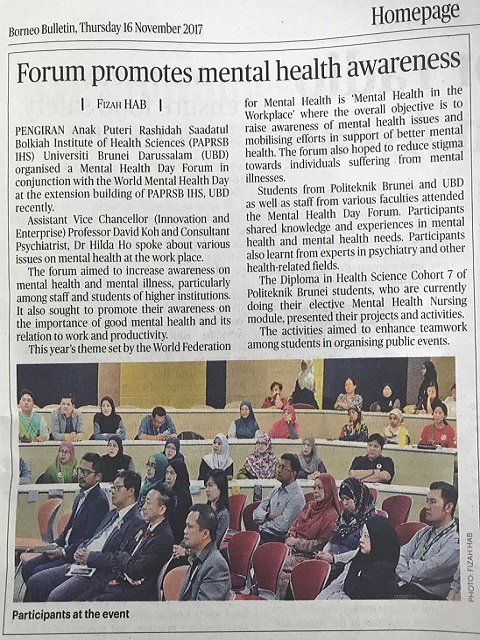 Forum promotes mental health awareness
By: Fizab HAB
On: 16 November 2017
In: Borneo Bulletin
PENGIRAN Anak Puteri Rashidah Saadatul Bolkiah Institute of Health Sciences (PAPRSB IHS) Universiti Brunei Darussalam (UBD) organised a Mental Health Day Forum in conjunction with the World Mental Health Day at the extension building of PAPRSB IHS, UBD recently.
Assistance Vice Chancellor (Innovation and Enterprise) Professor David Koh and Consultant Psychiatrist, Dr Hilda Ho spoke about various issues on mental health at the work place.
The forum aimed to increase awareness on mental health and mental illness, particularly among staff and students of higher institutions. It also sought to promote their awareness in the importance of good mental health and its relation to work and productivity.
This year's theme set by the World Federation for Mental Health is 'Mental Health in the Workplace' where the overall objective is to raise awareness of mental health issues and mobilising efforts in support of better mental health. The forum also hoped to reduce stigma towards individuals suffering from mental illnesses.
Students from Politeknik Brunei and UBD as well as staff from various faculties attended the Mental Health Day Forum. Participants shared knowledge and experiences in mental health and mental health needs. Participants also learnt from experts in psychiatry and other health-related fields.
The Diploma in Health Science Cohort 7 of Politeknik Brunei students, who are currently doing their elective Mental Health Nursing module, presented their projects and activities.
The activities aimed to enhance teamwork among students in organising public events.
Pictures from the World Mental Health Day Forum
15 November 2017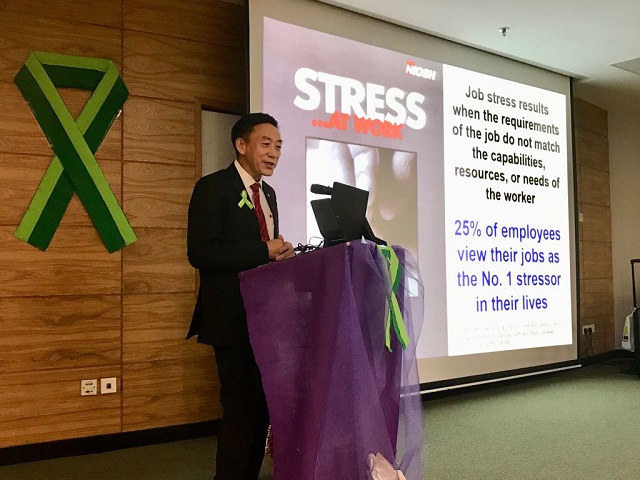 Professor David Koh on Mental Health in the Workplace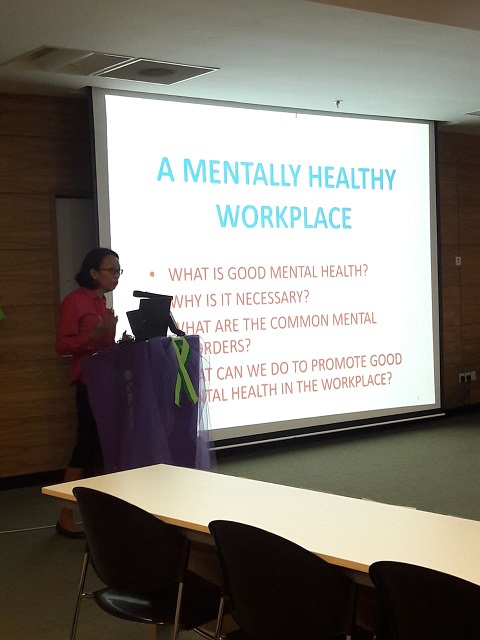 Dr Hilda Ho on Mentally Healthy Workplace
Participants at the Event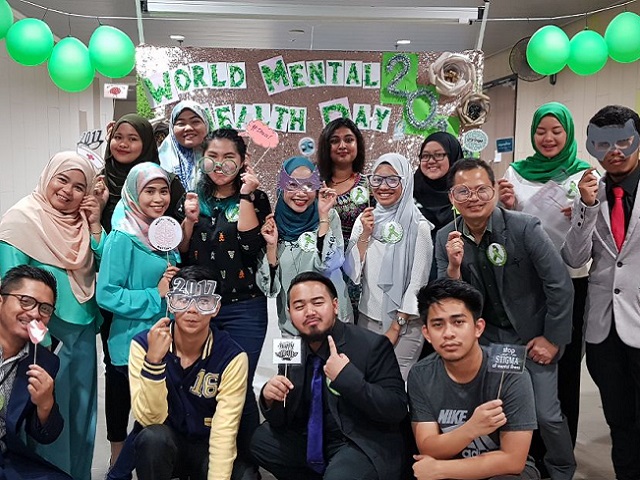 Photo Contributors: Cikgu Rozita Hj Tamin and Mr Deeni Idris