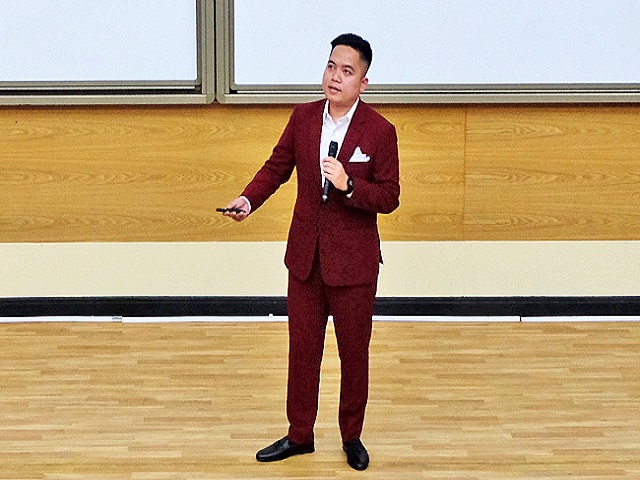 ABOVE: A final year Bachelor of Health Sciences student from PAPRSB IHS UBD presenting the research project.
BELOW: Dean of PAPRSB IHS Dr Hajah Rafidah binti Haji Gharif in her welcoming remarks.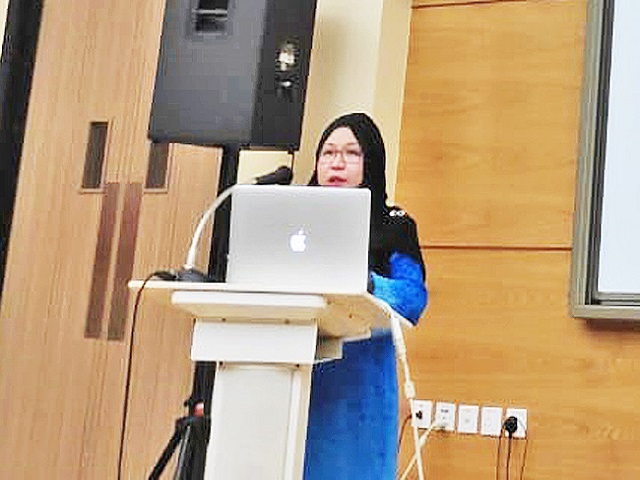 PHOTOS: HAKIM HAYAT
Aspects of nursing, midwifery practice dissected
By: Hakim Hayat
On: 19 April 2019
In: Borneo Bulletin > National
FINAL year Bachelor of Health Sciences in Nursing and Midwifery students from Universiti Brunei Darussalam (UBD) yesterday showcased their research projects focussed on aspects of nursing and midwifery practice to stakeholders in the sector.
The annual research day event at the Pengiran Anak Puteri Rashidah Sa'adatul Bolkiah Institute of Health Sciences (PAPRSB IHS), UBD was also held as part of the forthcoming Nursing and Midwifery International Day.
Final year students showcased their research projects with stakeholders including practicing nurses, midwives and other healthcare students. It centred around the theme 'Research and inquiry in healthcare.' Topics include complementary role of nurses in stroke rehabilitation and nurses' views of effective clinical handover.
Dean of PAPRSB IHS and guest of honour Dr Hajah Rafidah binti Haji Gharif said the theme reflects the students' engagement with making an inquiry through research projects.
"This engagement allows students to experience research and gain an in-depth knowledge of research techniques and processes, explore academic literature and form meaningful relationships with faculty members and stakeholders," she said.
She noted that two years ago, they started to showcase students' research projects – both as a group project, and more recently individual project.
They have made significant progress with several papers from the projects published and shared at international conferences and in publications of high-impact international journals.
"This past year, nursing research projects have also received positive support from professional nurses and midwives, as well as medical doctors who acted as clinical supervisors. These are all great things that we are doing for our patients and profession in general. We collaborated with each other to bring the greatest good in patient care," she added.