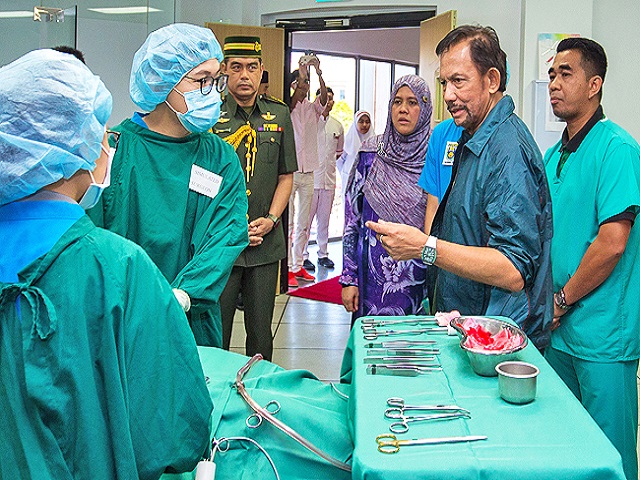 His Majesty Sultan Haji Hassanal Bolkiah Mu'izzaddin Waddaulah ibni Al-Marhum Sultan Haji Omar 'Ali Saifuddien Sa'adul Khairi Waddien, Sultan and Yang Di-Pertuan of Brunei Darussalam during a visit to the Pengiran Anak Puteri Rashidah Sa'adatul Bolkiah Institute of Health Sciences, Universiti Brunei Darussalam
His Majesty visits UBD's IHS
By: Aziz Idris & Rokiah Mahmud
On: 19 February 2019
In: Borneo Bulletin > National > Headline
HIS Majesty Sultan Haji Hassanal Bolkiah Mu'izzaddin Waddaulah ibni Al-Marhum Sultan Haji Omar 'Ali Saifuddien Sa'adul Khairi Waddien, Sultan and Yang Di-Pertuan of Brunei Darussalam made a scheduled visit to the Pengiran Anak Puteri Rashidah Sa'adatul Bolkiah Institute of Health Sciences (PAPRSB IHS) of Universiti Brunei Darussalam (UBD), and Universiti Teknologi Brunei (UTB) yesterday, as part of the monarch's efforts to check on the progress of educational institutions in the country.
Upon arrival at PAPRSB IHS, His Majesty was greeted by UBD Vice-Chancellor Datin Dr Hajah Anita Binurul Zahrina binti Pehin Orang Kaya Laila Wijaya Dato Seri Setia Haji Awang Abdul Aziz.
The monarch toured the institute's facilities and laboratory, and took a closer look at several demonstrations prepared by the institute's students and lecturers.
His Majesty also toured the Biomedical Research Lab and Pharmacy Tablet Making Lab, where he was briefed on the research projects currently being carried out, including a project on gene expression on Brunei cancer patients undertaken by Dr Mas Rina Wati together with the institute's PhD students, a project using Caenorhabditis elegans worms to study human diseases by Associate Professor Dr Mark Petalcorin and graduate students, as well as a 3D protein structure of cytochrome p450 by Dr Sheik Naeem and graduate students.
His Majesty also viewed the clinical skills demonstration stations by UBD medical students and Politeknik Brunei (PB) and Institute of Brunei Technical Education (IBTE) nursing students.
His Majesty ended his visit to PAPRSB IHS by signing a commemorative plaque.
PAPRSB IHS, in its aspiration to be among Asia's top-ranking health science institutions and to produce high-quality health professionals who meet national and international standards, offers students courses in various disciplines, including masters by coursework and graduate research studies programmes.
The institute was recently accredited as an official American Heart Association (AHA) training centre, meaning that it is now licensed to provide AHA-certified Basic Life Support (BLS), Advanced Cardiovascular Life Support (ACLS) and Pediatric Advanced Life Support (PALS) courses, as well as to conduct first aid and Heartsaver training.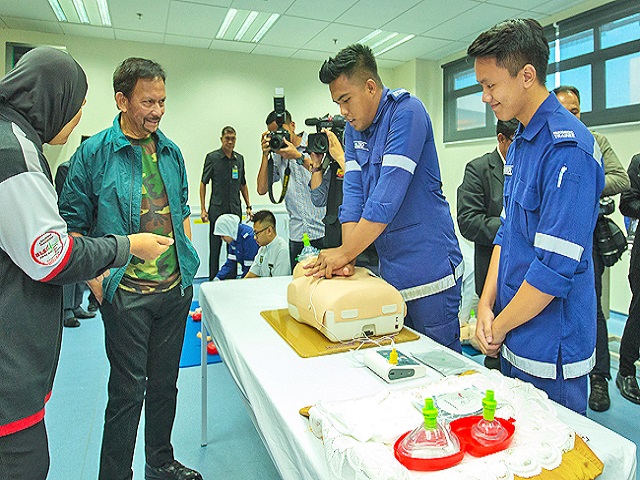 His Majesty next stopped by UTB, where he was greeted by UTB Vice-Chancellor Professor Dr Hajah Zohrah binti Haji Sulaiman and the university's deans of faculty, heads of department and programme leaders.
During his visit, the monarch mingled with the students and teachers, listening to their aspirations and concerns and reminding the students of the importance of education in building the future of the nation.
His Majesty toured the university's Civil and Mechanical Engineering Laboratory, where he had the chance to get a glimpse of the students' range of abilities in their different areas of specialisation, such as thermo fluids, manufacturing, design energy, and farm mechanisation.
The ruler also visited the Eco-Marathon Science, Technology, and Innovation (STI) Lab, built to serve as a physical base for UTB's Shell Eco Marathon team to work on their prototype vehicles.
His Majesty also spent time interacting with students from the School of Computing and Informatics, School of Business, Faculty of Engineering, and the studio located at the School of Design.
UTB is recognised as a five-star university under the Quacquarelli Symonds (QS) Star Rating System after achieving five stars overall and five stars in six out of seven categories in the rankings, namely Teaching, Employability, Internationalisation, Facilities, Social Responsibility, and Inclusiveness.
QS has upgraded UTB from a four-star-rated university, making it the only university in Brunei with five stars for overall excellence.
QS Stars is an international rating system that provides institutions with a broader range of criteria that allows them to stand out in particular areas of excellence.
At present, UTB has over 1,400 students – 594 of these students are undergoing programmes at the Faculty of Engineering, 288 are from the School of Business, 262 are from the School of Computing and Informatics, 71 are studying at the School of Applied Science and Mathematics, 50 from the School of Design, and 230 are currently undertaking postgraduate programmes.