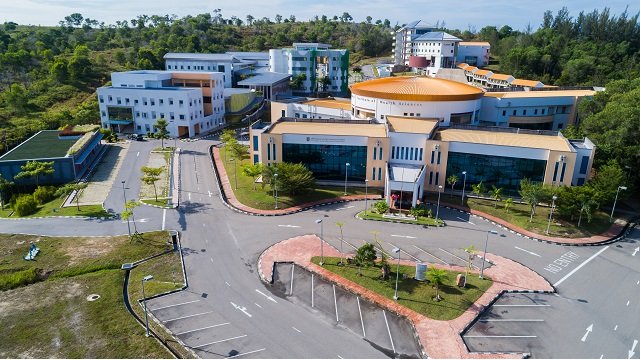 By: Aziz Idris
On: 13 May 2018
In: Borneo Bulletin > National > Headline
OVER 200 participants from Pengiran Anak Puteri Rashidah Sa'adatul Bolkiah Institute of Health Sciences (PAPRSB IHS), Universiti Brunei Darussalam (UBD) attended the opening of the 3rd Nursing and Midwifery Students' Research Conference held at the institute's faculty yesterday.
Guest of honour, Assistant Vice Chancellor (Academic Affairs) of UBD, Associate Professor Dr Mohammad Ayub Sadiq @ Lin Naing launched the event.
Themed 'Cultivating Research In Nursing and Midwifery: Pearls and Pitfalls', the conference was organised in collaboration with the School of Health Sciences, Politeknik Brunei in-conjunction with International Nurses and Midwives Day 2018.
This year marks the 10th anniversary of the Bachelor of Health Sciences Programme in Nursing and Midwifery offered by PAPRSB IHS, UBD.
Associate Professor Dr Mohammad Ayub Sadiq hoped the conference will cultivate a comprehensive 'research culture' focus on nursing and midwifery. He lauded the 12 final year students who shared their findings.
Guest of honour, Assistant Vice Chancellor (Academic Affairs) of UBD Associate Professor Dr Mohammad Ayub Sadiq @ Lin Naing addressing the event. – PHOTOS: AZIZ IDRIS
The conference also served as an opportunity to remind students, academics and clinicians that transparency and knowledge sharing are important pillars to promote research culture in healthcare.
The plenary session started with presentations by two local representatives of the undergraduate programme of the BHSc (Nursing), Nurul Mardhiah binti Zainudin followed by a guest speaker from the Ministry of Health, Nursing Officer from the Community Health Nursing Services, Department of Health Services Catrina Haji Mohd Sigie Al-Islam.
The event encourages the value of knowledge appraisals during research through interaction between students, academics and nursing and midwifery stakeholders.
Acting Dean/Deputy Dean (Undergraduate, Administration and Finance) at PAPRSB IHS, UBD Dr Zaw Wint; Associate Professor Dr Annie Cunningham Deputy Dean (Research Graduate Studies and Global Affairs) PAPRSB IHS, UBD as well as other members from PAPRSB IHS, UBD, healthcare practitioners from both government and non-government agencies that include Ministry of Health, Panaga Health Centre, Ministry of Defence, Pantai Jerudong Specialist Centre and private clinics in Brunei and Jerudong Park Medical Centre were also present.
Chairperson, Hajah Asmah binti Haji Husainin presented a certificate to the best speaker followed by a networking session.