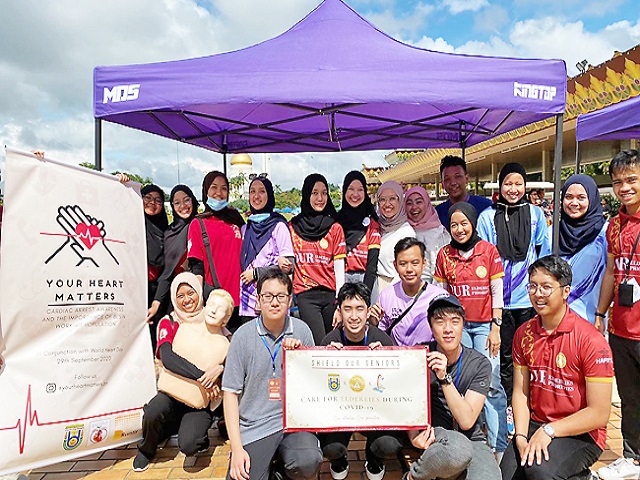 Shield Our Seniors team members in a group photo. PHOTO: SOS
Raising awareness to 'Shield Our Seniors'
By: Rizal Faisal
On: 10 September 2020
In: Borneo Bulletin > Features
With the aim to raise general public awareness on elderly care during the COVID-19 pandemic, a team of third-year medical students from Universiti Brunei Darussalam (UBD) has organised a community project called 'Shield Our Seniors'.
The initiative, held in collaboration with the Health Promotion Centre, is carried out with the hope of supporting the older generation to feel safe and connected during these unprecedented times.
The Shield Our Seniors (SOS) team is made up of Ahmad Iqbal Hafiyuddin bin Sofian, Siti Amirah Nabilah binti Haji Md Jappar, Mohammad Syahmi Hazmi bin Haji Mat Sarudin and Nur Hilmiyah binti Husaini.
They have lined up activities throughout September and early October including exhibition sessions at Bandarku Ceria, Raja Isteri Pengiran Anak Saleha (RIPAS) Hospital and a community outreach programme at Senior Citizen Activity Centre (PKWE) of Brunei Muara and Tutong districts, among others.
For the community outreach programme at PKWE, SOS team member Mohammad Syahmi Hazmi explained to the Bulletin that they will be holding health talks as well as distributing care packages which will include face masks, hand sanitisers, antiseptic wipes and other hygiene items.
"As part of our module which focusses on community-oriented medical education, a community project titled 'Care for Elderlies during COVID-19: Our Elders, Our Priorities' aims to promote care for the elderly," said Syahmi.
"Across society, COVID-19 presents a range of particular risks for older persons. As the virus spreads rapidly to developing countries, affecting health and social protection systems, the mortality rate for the elderly could climb even higher," he added.
A brief from United Nations Policy stated that physical distancing can take a toll on elderly mental health, worsened by the fact that fatality rates for the elderly are five times higher than the global average with an estimated 66 per cent of people aged 70 and over have at least one underlying health condition.
Abuse and neglect also significantly contributes to the problems, especially during lockdowns.
This may be paired with their significantly lower incomes and living standards where less than 20 per cent of older persons of retirement age receive a pension.
Essential care that the elderly rely on is under pressure, increasing their vulnerability.
In addition, women often being the care provider for older relatives increase their risk to infection.
While senior citizens are not just victims, they are also responders in healthcare, carers and among many essential service providers.
The team at SOS recommends social support by checking up on senior citizens through phone calls and messages while maintaining social distancing practice by limiting in-person visits.
Running errands for them is another recommended feat such as by buying daily necessities for them and ensuring their medical supplies are stocked up.
It is encouraged to help the elderly stay connected, feel involved, purposeful and less lonely by showing them how to video chat with others using smartphones, laptop and tablets. It is also advised that they postpone unnecessary medical visits, as well as to help them set up emergency contacts and speed dials while also being kind to them, showing empathy by talking to them and listening as well as help them cope with stress.
The team at SOS shared their co-adopted advice with the World Health Organization (WHO) on how the elderly can take good care of their mental health.
"Spend quality time with family and engage in family discussions. Involve in daily activities like gardening, cleaning and cooking to help overcome anxiety. Spend time on recreational activities such as board games, music, reading etc," they said.
Elderlies are encouraged to focus on daily movement, healthy eating, health tracking and staying connected as tips for self-care.
They suggested for the elderly to think about ways they can monitor and record aspects of their health and bring this information to medical appointments such as blood pressure, blood sugar and other factors that impact diabetes management, weight, lung function, changes in mood and emotions, pain as well as episodes of nausea, vomiting, diarrhea, dizziness, chest pain or shortness of breath.
Making telephone calls is one way to avoid feeling isolated along with family gatherings, communication through window or from vehicles pulled into the driveway and video calls.
If one has no access to computers, reach out to younger family members for assistance. Walking around the home is the simplest form of improving emotional health along with physical pains and medical conditions. If fit to, the team advised to extend one's walk around the neighbourhood, sit down and stand up from a stable chair to keep the legs strong and take advantage of free online and exercise videos.
In addition, eating healthy food can be an important part of improving the health and strengthening the immune system. It is suggested that to encourage this, add more colour to the plate by eating fruits and vegetables each day. If eating canned vegetables, a wash and rinse is needed to reduce the salt. Minimise sugary treats, drinks or high processed food, and drink plenty of water.
Including activities like gardening, cleaning and cooking daily will also help to overcome anxiety along with recreational activities like reading, playing board games.
Last but not least, it is highly recommended that the elderly cut down on listening to news. In previous years, the team has done similar projects tackling different health issues in the community such as cardiac arrest, mental health, etc.
Last August, the team conducted a donation drive, participated in the Sparks Co 8th Flea Market early this month as well as a garage sale and exhibition session at Bandarku Ceria last Sunday morning.
At Bandarku Ceria last Sunday, the team was joined by other third-year medical students who were conducting their own community projects as well.
Their posters included information regarding ways to care for an elderly during COVID-19, mental health aspects as well as impact of COVID-19 on senior citizens.
Funds raised by the team will be used to purchase care package items for the elderlies.