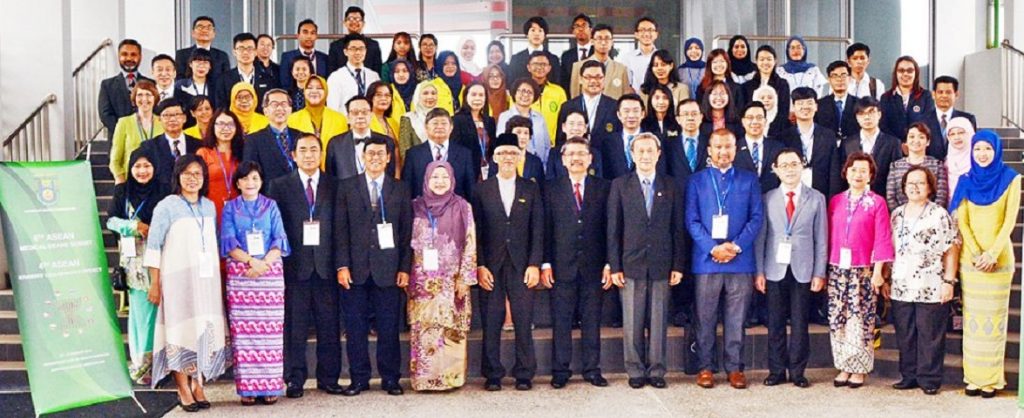 UBD's Assistant Vice-Chancellor (Innovations and Enterprise) Professor Dr Mohammad Ayub Sadiq @ Lin Naing in a group photo with delegates of the 8th ASEAN Medical Deans Summit and 4th ASEAN Students' Collaborative Project. – PHOTO: JAMES KON
By: James Kon
On: 24 August 2019
In: Borneo Bulletin > National > Headline
​ACCREDITATION of post-graduate medical training programmes, promoting research culture among medical schools, international collaboration, mental health among medical students and students exchanges are some of the important discussion taking place in the 8th ASEAN Medical Deans Summit (AMDS) and 4th ASEAN Students' Collaborative Project hosted by Pengiran Anak Puteri Rashidah Sa'adatul Bolkiah (PAPRSB) Institute of Health Sciences, Universiti Brunei Darussalam (UBD) from August 23-24.
The opening ceremony was officiated by Assistant Vice-Chancellor (Innovations and Enterprise) of UBD Professor Dr Mohammad Ayub Sadiq @ Lin Naing who is representing the Vice-Chancellor of UBD. Also in attendance were Dean of PAPRSB Institute of Health Sciences Dr Hajah Rafidah binti Haji Gharif and Dean of Faculty of Medicine, Universitas Indonesia as the Chairman of ASEAN Medical Dean's Network Professor Ari Fahrial Syam.
Prior to the launch, Professor Dr Mohammad Ayub Sadiq in his speech highlighted, "This summit or network was established in 2012 and the first summit was held at Faculty of Medicine, Siriraj Hospital Mahidol University in September 2012. There were 12 founding universities at that time and I attended the first meeting representing UBD."
Today, he said, "We could appreciate the tremendous development in the network. We have 20 members nowadays and 15 are present today. More importantly, you have integrated with ASEAN students' collaborative projects."
The theme of the summit is 'Interprofessional Education (IPE) and Mental Health issues', he highlighted, saying, "It is very relevant theme, we have talked about IPE for 15 to 20 years. However, there are a lot of challenges practically. Fortunately, like our Institute of Health Sciences in UBD, all health professional disciplines are under one umbrella, one institute. Resources are very much shared among these disciplines. Our simulation centre is one of the places where IPE is widely practised."
On sharing experience of Multple Mini Interview (MMI) for admission process, he said, "We used MMI since the medical programme was started 16 years ago. At that time, there were less than 10 universities worldwide practising MMI if you look into MMI literature. What I am trying to say is that we all have unique experience and strength which is something to share to our friends and partners. That is the whole idea of having a network and collaboration. We all help and support each other to develop together."
The AMDS summit is an annual event where the medical deans and rectos of ASEAN medical schools and institutes gather every year and meet to collaborate with their medical programmes and share experiences in medical education in both undergraduate and post graduate studies. The PAPRSB Institute of Health Sciences has been participating in the summit every year. A total of 46 delegates from 15 ASEAN medical schools are attending the summit this year.
In addition, there are 32 students from 15 ASEAN medical schools participating at the 4th ASEAN Students' Collaborative Project as a concurrent programme along with the AMDS sessions. They will present various topics on their collaborative projects during the two-day programme.
The programme also includes ASEAN Deans Board Meeting to discuss future plans and direction for collaboration among the medical schools.