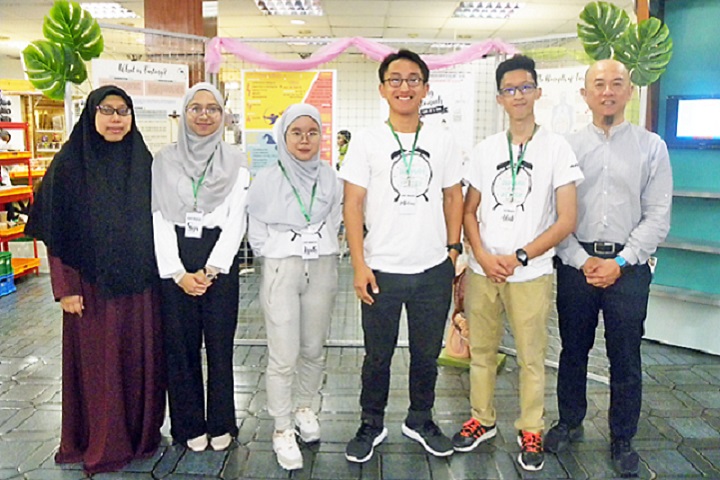 UBD third year undergraduates with their supervisors Dr Muhd Syafiq Abdullah (right) and Dr Siti Hanna Muharram (left) at the RIPAS Hospital roadshow. PHOTO: AZLAN OTHMAN
By: Azlan Othman
On: 25 August 2019
In: Borneo Bulletin > National > Headline
​'Healthy with Islam', a community health initiative launched by third year Universiti Brunei Darussalam (UBD) medical students continued at the Raja Isteri Pengiran Anak Saleha (RIPAS) Hospital Outpatients' Department yesterday.
It aimed to promote the health benefits of Islamic practices by educating the Brunei public, especially youth in higher education institutions.
Examples are fasting which can help prevent cancer and reduce blood pressure, and daily prayer, which is similar to meditation, resulting in a relaxed state of mind.
UBD group member Melvin Lee who is a third year undergraduate from Pengiran Anak Puteri Rashidah Sa'adatul Bolkiah Institute of Health Sciences (PAPRSB IHS), UBD told the Sunday Bulletin that public response was very good.
Local vendors, fun games and lucky draws with prizes including weigh scales and wristwatches attracted people.
"We intend to make the public more aware of being healthy with Islam. For instance, fasting can prevent cancer. With the majority in the Sultanate being Muslims, we hope that more Muslims in the country incorporate Islamic practice into their lifestyle leading to less visits to hospitals which means less medical and healthcare expenditure. This benefits the individual and the government," he said.
Melvin said plans are underway to host another 'Healthy with Islam' initiative in the near future.
The event also represents a step towards Brunei's Health Vision 2035: 'Together Towards A Healthy Nation' as Islamic health practices are inexpensive, natural and easy.
The event was also held at the PAPRSB IHS, UBD on August 19 and 20, and at the Religious Teachers University College of Seri Begawan (KUPU SB) on August 22.