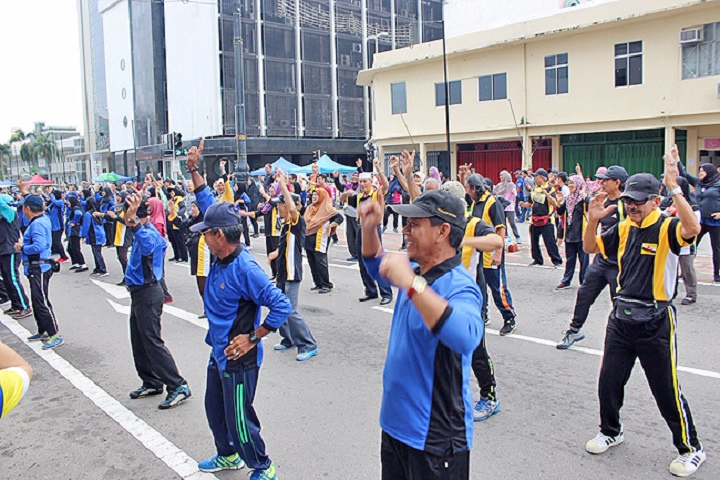 Elderly and other members of the public during a zumba activity at Bandarku Ceria in the capital. PHOTOS: UBD
By: Hakim Hayat
On: 28 August 2019
In: Borneo Bulletin > National > Features
The elderly population in Brunei Darussalam has increased by 9.9 per cent from 2013 to 2017, according to statistics from the Department of Economic Planning and Development and Ministry of Health.
Although an ever-increasing ageing population and life expectancy may benefit individuals and the country, there are several age-related health problems faced by the elderly that could hinder them from contributing to the community. These problems can be challenging to family members due to increased care-giving demands.
Hence, in their bid to raise public awareness on common age-related problems and promote healthy lifestyle among the elderly while also encouraging volunteerism among the public, a group of five Universiti Brunei Darussalam (UBD) students are championing the cause to further develop a proper care system for the elderly and tackle this issue.
The group comprises Illyana Rashidah binti Md Wafiuddin Waie, Nadiah 'Aqilah binti Abidin, Nur Haszwany binti Mahadi, Nurlaylasahira binti Abdul Rahim and Nur Amanina binti M Jasni.
According to the students, the current system of elderly care in Brunei includes home-based nursing services provided by the Ministry of Health and the volunteer-based Senior Citizens Activity Centre.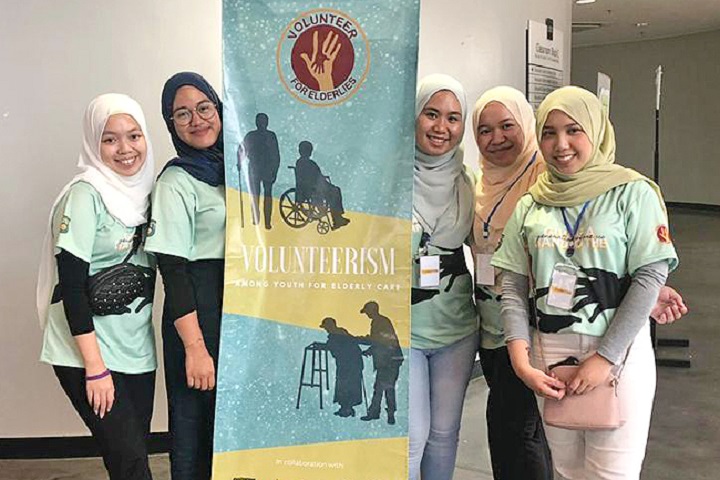 Student volunteers for a group photo.
They highlighted that public awareness on available volunteering opportunities is therefore important to ensure these centres are operating efficiently. Moreover, they said 'caregiver burden' can be lessened by recruiting skilled volunteers.
The project, part of their third-year module in BHSc Medicine Special Study Module 3, saw the students organising a series of interactive events including exhibitions, talks and training at the Pengiran Anak Puteri Rashidah Sa'datul Bolkiah (PAPRSB) Institute of Health Sciences, UBD and BandarKu Ceria in the capital, as well as activities at Senior Citizens Activity Centres.
According to the UBD students, the project aims to encourage volunteerism among youth and hone proper caregiving skills among volunteers and caregivers, thus improving quality of elderly care.
During a talk and training day at the PAPRSB Institute of Health Sciences, UBD, over 30 people participated in a sharing session led by Hajah Norgayah binti Haji Dullah, a member of the Yayasan Sultan Haji Hassanal Bolkiah (YSHHB) Volunteer Unit, on elderly care experiences, as well as a training session by physiotherapists from Pantai Jerudong Specialist Centre (PJSC).
The talks focussed on common issues affecting the elderly such as falls, polymedicine, infection and hygiene, as well as volunteer's roles and responsibilities besides demonstrating proper care of the elderly by physiotherapists.
There were also exhibitions that focussed on age-related health problems and healthy lifestyle for the elderly, while also raising funds for Pusat Amal Cerah Sejahtera (PACS), which is a centre that provides nursing and rehabilitation services to elderly patients.

Participants during a role-play activity on elderly care.