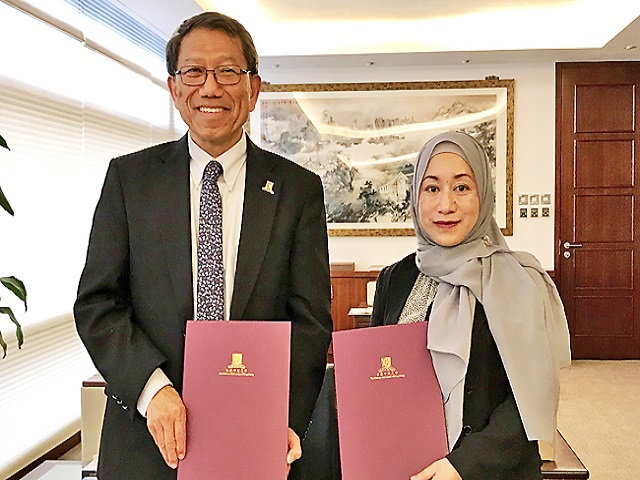 Vice-Chancellor of UBD Datin Dr Hajah Anita Binurul Zahrina binti Pehin Orang Kaya Laila Wijaya Dato Seri Setia Haji Awang Abdul Aziz and Vice-Chancellor of CUHK Professor Rocky S Tuan during the signing ceremony. – UBD
UBD, Chinese University of Hong Kong strengthens partnership
On: 15 June 2019
In: Borneo Bulletin > National
UNIVERSITI Brunei Darussalam (UBD) signed two Student Exchange Agreements (SEA) with the Chinese University of Hong Kong (CUHK), renewing a five-year partnership between the two institutions.
The signing took place at the CUHK yesterday.
The signing was aimed at formalising ongoing collaborations between the two universities in addition to the university-wide student exchanges that both institutions started in 2015.
The agreements were signed by Vice-Chancellor of UBD Datin Dr Hajah Anita Binurul Zahrina binti Pehin Orang Kaya Laila Wijaya Dato Seri Setia Haji Awang Abdul Aziz and Vice-Chancellor of CUHK Professor Rocky S Tuan.
UBD said the SEA will enable UBD students to undertake their study abroad programme at CUHK during their third year's Discovery Year programme. CUHK students will also be able to participate in UBD's inbound mobility programmes.
UBD and CUHK have had active student exchanges particularly through UBD's Discovery Year and Global Discovery Programme since 2015.
The scope of the renewed agreements focusses on student mobility with emphasis in entrepreneurial training, global mindset and global skills.
Faculty of Medicine at CUHK is also one of the partner medical schools of Pengiran Anak Puteri Rashidah Sa'adatul Bolkiah Institute of Health Sciences (PAPRSB IHS) of UBD since 2017. Both faculties collaborate on an undergraduate medical programme. PAPRSB IHS has 10 partner medical schools including those from the United Kingdom (UK), Republic of Ireland, Australia and Hong Kong.