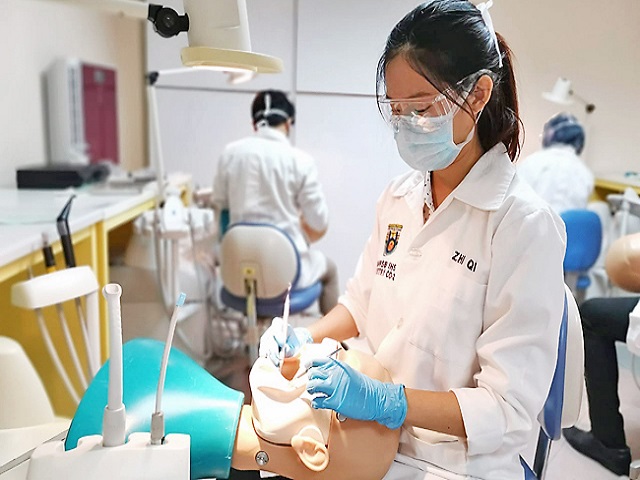 UBD dental student. PHOTO: UBD
Campaign to warn off fake braces
On: 15 August 2020
In: Borneo Bulletin > National
Six third year dentistry students from the Pengiran Anak Puteri Rashidah Sa'adatul Bolkiah Institute of Health Sciences, Universiti Brunei Darussalam (PAPRSB IHS, UBD) in collaboration with the Department of Dental Services, Ministry of Health are organising a Fake Braces Awareness Campaign (FBAC).
The project is aimed at raising awareness on the dangers and risks of fake braces, to educate the public on the ways to report fake braces and to highlight the importance of seeking a proper orthodontic treatment.
Throughout the month of August, several activities will be held including a virtual run co-organised with MK Fashion, school talks, an educational video, poster making competition and weekly quizzes on social media. The virtual event, themed 'Run From Fake Braces', will be held in September.
Registration can be made through an online application form or at the walk-in at the PAPRSB IHS, UBD, every Friday from 9am-11.30am and 2pm-4pm, and on Saturday from 10am-4pm which ends on August 31.
Talks will also be held at two sixth form centres: Paduka Seri Begawan Sultan Science College and Sengkurong Sixth Form Centre on August 17 and August 24 delivered by dental students alongside dental specialists Dr Maisalamah binti Haji Taha, Dr Uday Kumar Umesan and Dayangku Dr Hajah Noorsuhada binti Pengiran Haji Ismail from the Department of Dental Services, Ministry of Health.
A poster competition will also be held from August 11-29.
The public can exercise their creativity and knowledge on fake braces to create posters either digitally or hand-drawn.
A video will also be produced to educate the public and address enquiries during the campaign period. A series of questions will be gathered from the public through its social media pages which will be addressed by orthodontists and general dentists from the Department of Dental Services, Ministry of Health.
The video will be uploaded on social media platforms.