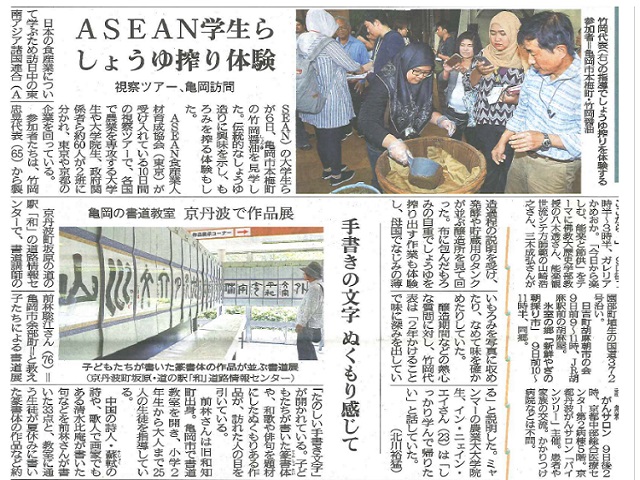 Nur Amira Amni (a student of the programme MHSc Biomedical Sciences by Research) was featured in a Japanese newspaper and was seen involved in the making of soy sauce from fermented soy beans at Takeoka Soy Sauce Brewery, Kyoto, Japan as part of the food industry tour.
Japanese Food Industry Tour for the Development of Food-Value-Chain in ASEAN Countries
Three postgraduate students from UBD PAPRSB Institute of Health Sciences (Nurul Adhwa Hj Abd Rahman, Nur Amira Amni Awang Adam and Nurul Ramizah Haji Zulhilmi) participated in a Japanese Food Industry Tour, as stated in the title above. They were joined by another postgraduate student (Nur Faraziemah Yakop) from UBD Faculty of Science (FoS), Dr Natasha Keasberry (also from UBD FoS), and a government officer (Ms Syahirah Salleh) from the Prime Minister's Office (PMO), Brunei Darussalam.
The programme took place from 3 September 2017 until 11 September 2017 in partnership with universities in the ASEAN regions (including Brunei Darussalam, Indonesia, Japan, Malaysia, Myanmar, Philippines). It was funded by the Ministry of Agriculture, Forestry and Fisheries (MAFF) of Japan, and was initially launched in 2014 to celebrate the 40th year of ASEAN-Japan friendship and cooperation.
The programme has allowed the students to participate in academic visits and to experience sixth sector industrialization in Japan's agricultural industry. The tour took the participants to the cities of Kyoto, Osaka, Nagoya and Tokyo. Visited sites included Fuji Oil (a food processing company), Tango Kingdom, Oi-i-shi Agri-Farm, Takeoka Shoyu (a soy sauce brewery), Yuuhisai Kudoukan, Nakakou Co Ltd, Takii Seeds, Ota Market, Nagoya University, Yamato transport, PASONA and AEON.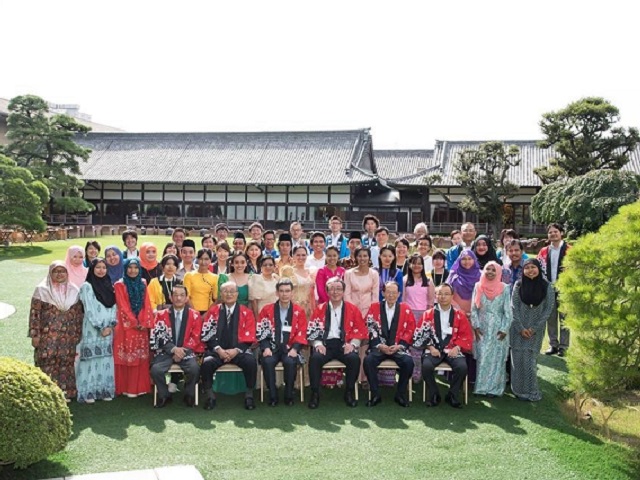 Food tour group picture at Meiji-Kinenkan, Tokyo, Japan on the final day.
The tour was joined by Mr Masaaki Maruyama (Deputy Director-General, Food Industry Affairs Bureau, MAFF Japan), Mr Masayoshi Konno (President of ASEAN Food Industries Human Resources Development Association) and various sponsors for a group photo session on the final day.
Post Contributor: Nurul Adhwa Hj Abd Rahman