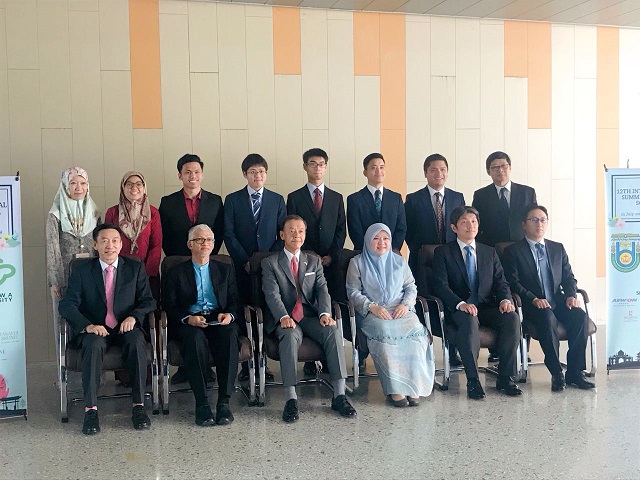 Two Japanese students join UBD exchange programme
By: Izah Azahari
On: 24 July 2018
In: Borneo Bulletin > National > Headline
THE 12th International Summer Medical School (ISMS) Programme was officially opened yesterday in a ceremony held at the Pengiran Anak Puteri Rashidah Sa'adatul Bolkiah Institute of Health Sciences (PAPRSB IHS) building at Universiti Brunei Darussalam (UBD).
The ISMS is an annual student exchange collaboration between PAPRSB IHS and Kagawa University Faculty of Medicine (KUFM) aimed at strengthening the friendship among the medical students of Brunei Darussalam and Japan.
Present as guest of honour at the event was the Ambassador of Japan to Brunei Darussalam, Motohiko Kato.
The event began with the recitation of Surah Al-Fatihah and Doa Selamat, followed by a welcoming speech by the co-coordinator of the 12th ISMS, Dr Muhammad Hazim bin Haji Abdul Ghani, where he welcomed two students from KUFM, Kazuhiro Irei and Daichi Funaki.
Dr Muhammad Hazim highlighted that this year's ISMS will have a 'Non-Communicable Diseases' theme, and see the participants engaging in academic work on diseases such as tuberculosis, hypertension, cancer and diabetes.
The ISMS programme, which ran from July 23 until August 23 this year, will expose the students to a variety of activities giving them the full experience of life as medical students at UBD, not just academically, but also in the social and cultural aspects.
This will encompass a range of academic activities, including lectures, problem-based learning (PBL) and clinical and communication skills sessions, as well as activities to improve the students' English language proficiency and presentation skills.
According to Dr Muhammad Hazim and his fellow ISMS co-coordinator Dr Deeni Rudita Idris, the programme represents a valuable opportunity for the Japanese students to experience life as future practitioners while studying in a foreign setting as well as improve their communication skills.
The event also saw a brief speech by Dr Saneyuki Yasuda, an assistant professor at the KUFM, as well as an opening address by the guest of honour.
In his address, Kato highlighted the long-promoted youth exchanges between Brunei and Japan through various programmes such as the Japan-East Asia Network of Exchange for Students and Youths (JENESYS), the Ship For Southeast Asian and Japanese Youth Programme (SSEAYP), and the Japanese Government Scholarship programme.
"The exchange programme between UBD and Kagawa University," he said, "is one of the longest-running youth exchange programmes between the two countries, providing a golden opportunity to further develop mutual understanding between Japanese and Bruneian youth".
Due to the long history of positive cooperation between the two institutions, Kagawa University – one of the most prestigious varsities in Japan – is now very well-known in Brunei Darussalam.
"When I look at the young students in this country, I am aware of their great potential. I hope that more and more brilliant students from Brunei are going to study at Kagawa University to do their research. I believe that it could further enhance the educational and academic cooperation between both countries," added the guest of honour.
The event concluded with the presentation of souvenirs to the 12th ISMS participants and guest of honour, as well as a handing over of certificates of appreciation to the programme's sponsors.