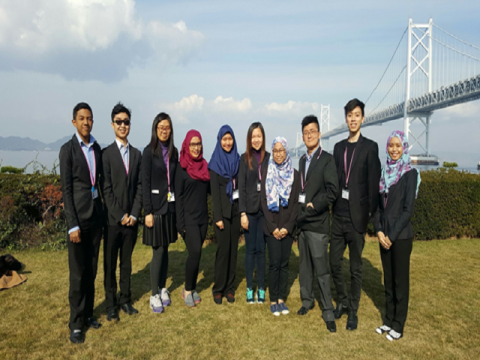 10 IHS medical students in front of Great Seto Bridge, Kagawa in day time.
[left to right] Adli, Brandon, Hui Ling, Diva, Wendy, Chen Yun, Nabihah, Wei Ho, Tze Hong, Anis
10 IHS medical students were selected to go to Kagawa University for a 16 days eye-opening experience last December (5 Dec to 22 Dec 2016).
The selected students were:
Dk Amanina

Nabihah

Pg Matsah (currently year 3)
Mohammad Noor

Adli

Hj Souyono (Year 3)
Dr Nur

Anis

Amarunnisa Pg Hj Kamarudzaman (Year 3)
Ida

Wendy

Nurfazana Batrisyia Hj Kamarul Zaman (Year 3)
Yong

Tze Hong

 (Year 3)
Tok

Chen Yun

(Year 3)
Loh

Wei Ho

 (Year 3)
Brandon

Lee Eng Yap (Year 3)
Ong

Hui Ling

 (Year 2)
Siti Farah

Diva

Abdullah (Year 2)
 According to Brandon and Wei Ho,
"To say the least, the 2016 IWMS experience was an eye-opener, both culturally and academically. We had the opportunity to experience many things that we could not back in Brunei, including dissecting & learning anatomy through cadavers, making traditional Japanese fans, doing surgery using robots, and gaining experience at an established teaching hospital first-hand. We were left with the impression that the Japanese are all so helpful, polite and punctual, and that everything is so clean and well-organised. We recommend this programme to current IHS medical students who have yet to participate and are interested to join."
In the first week of the IWMS programme, the students shared most of their time with the 'Sakura Science Project' - in which representatives from participating ASEAN countries (Brunei Darussalam: represented by IHS lecturers Dr. Shirley Lee & Dr. Ihsan Nazurah; Thailand; Myanmar; and Vietnam) were invited to the Faculty of Medicine, Kagawa University to discuss the rising health burden posed by non-communicable diseases, as well as the health status of each respective countries. During this time, they attended lectures on telemedicine, advances in portable cardiotocography for remote areas, and current health issues in the participating nations.
They also visited the rare sugar factory (Matsutani Company), and learned about rare sugar production and its properties which could be used to help address the issue of non-communicable diseases.
After the first week, the students were no longer with the Sakura Science Programme participants. Their typical day's schedule consisted of hospital or laboratory sessions on most days, with anatomy sessions every Wednesday afternoon.
Lectures were given by the university lecturers and clinicians. Laboratory sessions were often held by researchers at the faculty, and hospital sessions/surgical observations were with physicians and surgeons of the Kagawa University Hospital.
Cadaveric anatomy sessions often took up a whole afternoon, in which IHS medical students were assigned to a group of 5-6 Japanese Year 2 medical students, and they would help the local students in Kagawa identify structures (especially in English, as the practical anatomy exams are in English) and dissections.
The IHS students visited a total of 20 hospital departments/laboratories. Learning highlights are:
Clinical Oncology
introduced to cancer treatment in the Kagawa University Hospital (which include chemotherapy, radiotherapy, surgery and supportive therapy & counselling)
Urology
observed a prostatectomy, as performed through a robot (robotic laparoscopic surgery)
Neurological Surgery
observed the surgical resection of a large meningioma
Paediatric Surgery
entered the operating theatre room to observe and discuss a case on oesophageal atresia with tracheo-oesophageal fistula type 1a in a 26month old infant;
learnt how to tie a surgical knot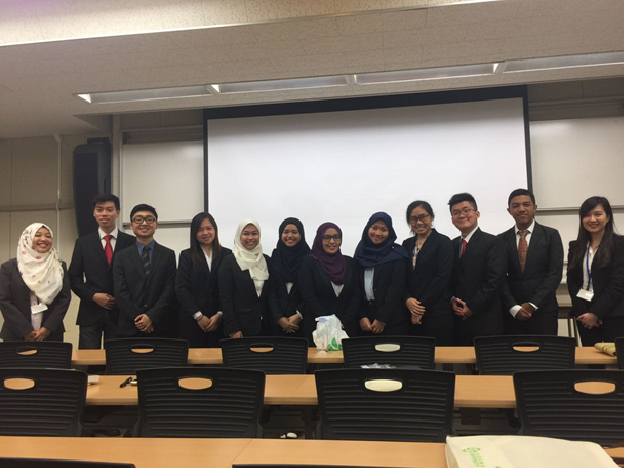 2016 IWMS IHS students with Sakura Science Progarmme Participants. [left to right] Dr Ihsan, Tze Yong, Brandon, Chen Yun, Nabihah, Anis, Diva, Wendy, Hui Ling, Wei Ho Adli, Dr Shirley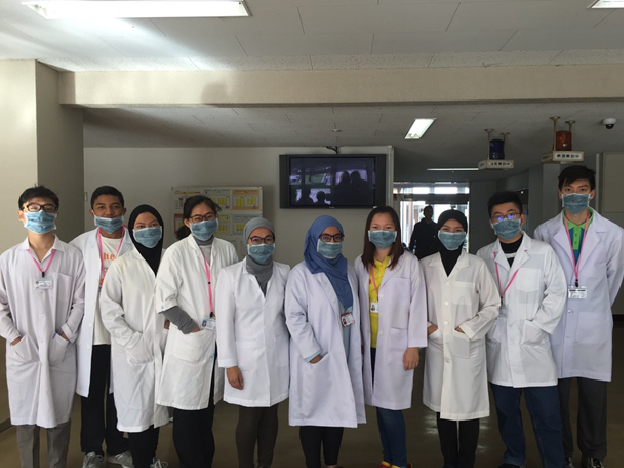 2016 IWMS IHS medical students making hospital and laboratory visits in Kagawa. [left to right] Brandon, Adli, Wendy, Hui Ling, Nabihah, Diva, Chen Yun, Anis, Wei Ho, Tze Hong. 
Aside from the formal lessons in which the 2016 IWMS students learnt from the lecturers and clinicians, there were other activities which required them to utilise their knowledge, especially during a session with high school students to educate on diabetes. For this session, IHS students acted as the facilitators for a group of about 10 high school students and led a discussion on the risk factors of diabetes and suggestions to overcome the issue. In another discussion session with Kagawa University medical students, IHS students were given a case to discuss in terms of its risk factors, clinical approach and the psychosocial aspect of healthcare.
The academic aspect of the programme planned by Faculty of Medicine, Kagawa University was truly excellent. Equally, other cultural activities did not fall short. The students were constantly encouraged to learn, understand, and even practise the culture.
Dinners in Kagawa usually consisted of udon and a side-dish of tempura, which Kagawa is well-known for. On a once weekly basis, the IHS students joined club activities distinct to the Japanese culture, such as Judo and Kyudo. During the weekends, the activities scheduled allowed sightseeing and experiencing of the culture firsthand from 2-day stay with foster families.
The students visited Konpira-san (a famous shrine), partook in Udon-making and Uchiiwa-making (Uchiiwa: traditional fan), stayed overnight at Goshikidai (hills of changing colours) and experienced Onsen. In Akatsuki-sou, their home in Kagawa, they were able to put on the yukata and learned Japanese calligraphy given by Mama-san (their lovely caretaker). In addition, the IHS students attended various parties themed around Japanese food, such as takoyaki party, temakizushi party and Japanese tea ceremony, as well as an international party.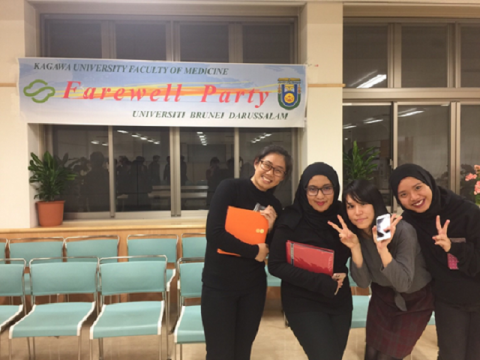 Photo taken during the farewell party at the end of the programme.
[left to right] Hailey, Diva, Rika (3rd year Kagawa University medical student who came to Brunei for the 10th International Summer Medical School in UBD) and Anis.
All three UBD students were Rika's designated buddies during Rika's stay in Brunei.
written by: 2016 IWMS Medical Students
edited by: Dr Lim Mei Ann